Cobra Kai is back for another season on December 31, as the continuation of The Karate Kid films goes into some exciting new territory. When we left off, perennial 1980s rivals Johnny Lawrence?(William Zabka)?and Daniel LaRusso?(Ralph Macchio)?were attempting the unimaginable – an ongoing alliance!
Their intention to work together, teaming?Miyagi-Do and Eagle Fang against Cobra Kai itself, will have some formidable opposition though, both from the expected likes of John Kreese?(Martin Kove), but also via Kreese¡¯s ace in the hole; his old buddy?Terry Silver?(Thomas Ian Griffith, reprising his role from 1989¡¯s The Karate Kid Part III).
Cobra Kai creators / Executive Producers Josh Heald,?Jon Hurwitz, &?Hayden Schlossberg, and Johnny Lawrence himself, William Zabka, spoke to Fandom about what to expect in Season 4.?Plus, with Cobra Kai¡¯s popularity booming and the show boasting tons of merchandise, they spoke about the very offbeat action figure collision of Cobra Kai and Teenage Mutant Ninja Turtles.
THE SILVER AGE?
Terry Silver certainly makes an impression in The Karate Kid Part III, but to put it delicately, everything about him, and the film he¡¯s in, is rather over the top and bizarre compared to the rest of The Karate Kid franchise. The cackling, wealthy owner of DynaTox Industries ¨C who specialized in disposing of nuclear and toxic waste, of course ¨C Silver was incredibly gleeful in his attempts to avenge his friend Kreese for his loss in the 1984?All Valley Karate Tournament?by taking down high school student Daniel LaRusso himself.
There had always been questions about how you could incorporate Silver into Cobra Kai without it feeling out of whack and the show¡¯s EPs acknowledged it was a bit tricky but felt they were able to make it work – both by exploring their own memories of Silver from when they first saw the film and adapting the character for the modern age.
Said Hayden Schlossberg, ¡°We're taking a character from a Karate Kid sequel that was certainly heightened, but the fact is, when we were kids watching it, we weren't film critics, we were just enjoying it and he was a scary guy. We understood what we like about that character from just pure a villainous perspective, but to bring him into the world of Cobra Kai, we wanted it to be grounded, wanted it to be as real as possible, so that when you look at that movie, [his behavior] actually makes a little bit more sense.¡±
He added that they felt Terry could be contextualized through the lens of archetypal fictional 1980s businessmen like Wall Street's?Gordon Gekko or American Psycho's?Patrick Bateman; what Schlossberg described as, ¡°These guys who are slicked back, and probably doing some drugs behind the scenes, like some cocaine, and just want to take over the whole f**king world. That's who Terry Silver was. And when you think about it in those terms, it feels a little bit more real.¡±
Schlossberg added they then said the question became, ¡°What happens to that guy, 30 years later, who kind of hit a rock bottom and had a huge embarrassment? And so we kind of started from that place of 'Let's try to take this seriously and pretend that this was a real character and ask where would he be today.' That was the approach.¡±
One notable thing about Terry Silver going into Cobra Kai?Season 4 is that Johnny Lawrence has never met him, as Johnny wasn¡¯t present for the events of The Karate Kid Part III. So what does he make of him when they finally meet? Said William Zabka, ¡°Terry Silver to Johnny is just this guy with a ponytail showing up in his world. He has no understanding of the threat this guy poses.?In Daniel's defense, he does see it coming but Johnny only knows he's bad news because he's with Kreese."
Zabka noted Johnny¡¯s preoccupation is, ¡°What¡¯s Kreese up to now? So Johnny kind of looks past Terry Silver, but Daniel knows the dangers ahead… and Johnny has some things to learn about that.¡±
Asked about meshing in an element of a movie as over the top as?Karate Kid III?with?Cobra Kai, Zabka replied, ¡°What¡¯s great about Terry Silver coming back and the the way that he's portrayed in the show, and what Thomas brings to the character, is it makes?Karate Kid III?amazing and it makes it relevant and makes you want to know more about who this character is. It reinforces Karate Kid III in an incredible way. I love the way they tie it together. They're bringing all the characters from the franchise in in such smart ways that are relevant and timely for today.¡±
Zabka observed, of adding layers to Terry, ¡°It's very much what they did with Johnny and Daniel in the start of the show, of meeting them where they are today and then sorting through their issues. It's an evolution of the story and it widens and broadens the narrative. It runs wider and deeper and gives it dimension. It¡¯s been a treat to play and incredible to read and I think the fans are in for a super treat with what Terry Silver has to bring to the game.¡±
DANIEL & JOHNNY
Cobra Kai Season 3 ended with Johnny and Daniel deciding to create a united front against Kreese and Cobra Kai, putting all the students of Miyagi-Do and Eagle Fang together under one roof to train.?Not surprisingly, this leads to Season 4 containing more scenes than we¡¯ve gotten before of Johnny and Daniel together, given previously, their encounters were either outright antagonistic or fairly brief moments of calm.
When it came to putting their two leads together in this manner, Jon Hurwitz said, ¡°It's the best,¡± adding, with a laugh, ¡°The executives are finally getting what they wanted on day one! When we first pitched the show, we wrote our first episode and the first note was like, ¡®Can we have Johnny and Daniel together more?¡¯ We said ¡®No, we're building, we're building!¡¯ So now Season 4 gives us all that goodness. These two performers — where every time they're on screen together is magical — to be able to have them in a storyline together where they're trying to run a dojo with their opposing philosophies and their both opposing points of view of the world and their years of conflict, it was, from a dramatic standpoint and from a comedic standpoint, just an absolute pleasure.¡±
Hurwitz also noted, ¡°From a writing standpoint, it's great that our number one and number two on the call sheet are in a lot of scenes together because that frees up space for other things going on in the other stories, so it was awesome. I think fans are going to really enjoy seeing their dynamic and the kinds of challenges that are thrown at them through this collaboration and see how it all works out for the course of the season.¡±
Said Zabka, of Johnny and Daniel trying to work together, ¡°They have a common enemy, and for the first time in these characters¡¯ lives, they're on the same page and they have the same goal. Aligning to go and take down this enemy is a great starting point, of course, but they both have different playbooks in different styles and different views on how to do that. So they have a little bit of a challenging road ahead of them to come together to take down the big bads in the show. They're trying to march forward and they're really entering uncharted territory. They're going to be running into all kinds of all kinds of unexpected things and how they're going to handle that is going to be a lot of fun for the audience to watch."
On a personal level, Zabka was very happy with this turn of events for Season 4, explaining, ¡°I love working with Ralph and we both enjoy it so much. [Daniel and Johnny] are both working to better themselves and to better these kids' lives, but they both have blind spots. These two characters need each other, so they sharpen each other constantly, for better or worse. They¡¯re a work in progress as friends, as partners, as past foes. They¡¯ve turned a page now and at least they're trying to put their differences aside and come together to do that. We¡¯re really enjoying the evolution of the relationship of these characters and that the writers keep it fresh.¡±
COBRA KAI AND NEW YEAR¡¯S
JOIN FORCES AGAIN
One amusing and unusual thing about Cobra Kai?in 2021 is that two new seasons of the show have ended up quite literally bookending the year, with Season 3 debuting on January 1 and now Season 4 debuting December 31. It¡¯s actually fairly rare for a scripted live-action Netflix series to debut two seasons within a single year, but here, there?were many factors involved in this occurring, starting with Season 3 being completed for some time before it debuted, while the show was moved to Netflix.
Said Josh Heald, of 2021 beginning and ending with new Cobra Kai?for fans, ¡°It's pretty awesome! Season 3 obviously was delayed, both because of the pandemic and because of our platform switch from YouTube premium to Netflix, but that date couldn't have been better for the show because our timeline in Season 3 had culminated at Christmas. Being able to lean into that around the holidays when the family is all together, and this being such a co-viewing show, ended up as a wonderful release date for us.¡±
Heald did point out that, the shared 2021 technicality of the dates aside, ¡°While we're one day sooner, it's essentially the same date [for Season 4 as Season 3]. And to kind of experience that again with this season, which is so big and so bombastic, and goes to such heightened, huge, action-packed places. it feels appropriate that we should be kind of closing out the year in the same way we began it¡­ with a lot of people kicking and hitting each other.¡±
MERCY IS FOR THE MUTATED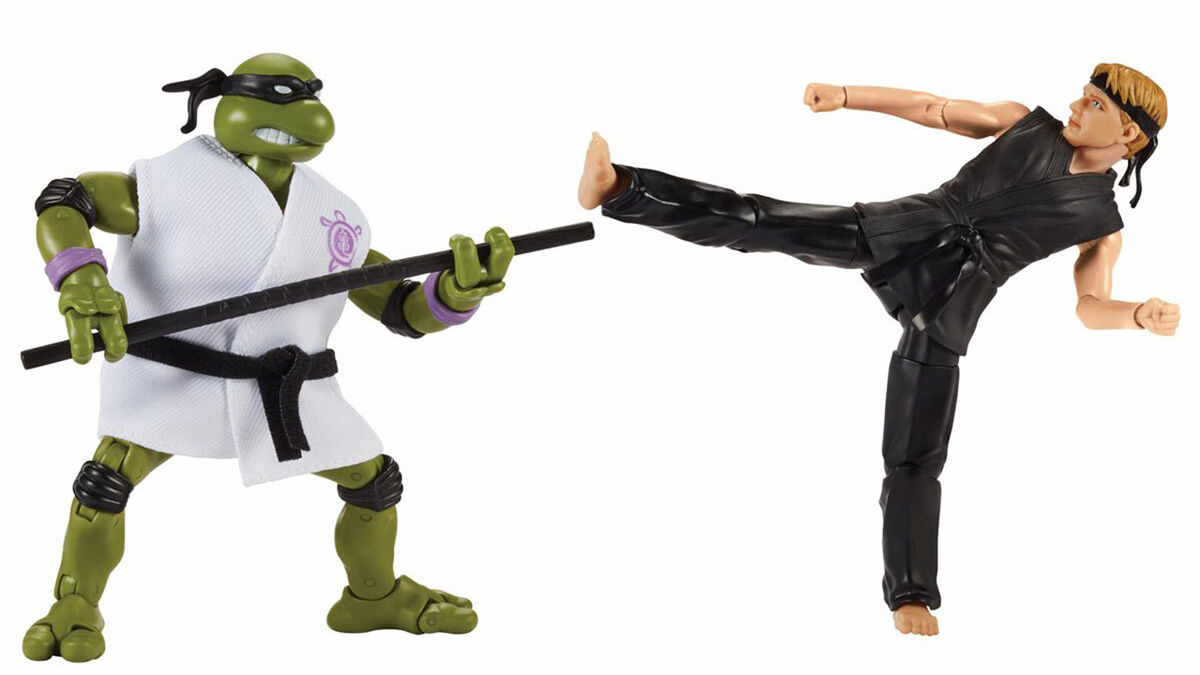 While there was some merchandise made for?The Karate Kid?in the 1980s, the incredible cross-generational popularity of?Cobra Kai?has led to more products designed around the franchise than ever before.?As Zabka put it, ¡°Yeah, the merchandise marches on, man! I remember in the 80s when they had the original Johnny, Daniel, Miyagi, and Kreese figures come out and that was just surreal, but now it's just through the roof. Every day I'm getting a new likeness to approve of a new stuffed animal or bobbleheads or something. It¡¯s crazy.¡±
Perhaps nothing is crazier though than the recently released Teenage Mutant Ninja Turtles vs. Cobra Kai action figure sets. Yes, the heroes in a half shell take on the heroes of the valley, with two-pack showdown releases featuring Leonardo?vs.?Miguel, Raphael vs. Kreese, Michelangelo vs. Daniel, and Donatello vs. Johnny.
Zabka chuckled when I mentioned these unlikely figures, replying ¡°Yeah, Johnny fighting Donatello and the Ninja Turtles!? What a kick that is, no pun intended. Let me put it to you this way… Of all the dolls and all the merchandise that's out there, the only one that my 12 year old son wants is the one with Johnny vs. Donatello. I think my cool factor went up a few notches when he saw that in a package and his dad next to a Ninja Turtle, asking ¡®What the heck is going on here?¡¯¡±
Schlossberg pondered other potential matchups for TMNT and Cobra Kai, remarking, ¡°I've always been into Michelangelo and I think a Michelangelo and Hawk would be like a really good fight, if you were to create the best fight scenario. They're my favorite kind of flamboyant fighters.¡±
Schlossberg also couldn¡¯t resist joking about what it would be like if?Cobra Kai?actually merged Ninja Turtles lore into their TV series, exclaiming, ¡°I don't want to spoil anything, but maybe we don't know exactly who Shredder?is! So you know, I'm just saying, you can hide a ponytail under that helmet¡­"
Hurwitz then kept the bit going, declaring, ¡°I don't know if this gives away too much, but in Season 5, you actually learn the secret of the ooze,¡± with Schlossberg proclaiming, ¡°It comes from DynaTox! The ooze is chloride sludge,¡± as the showrunners chuckled about tying together Terry Silver¡¯s nefarious toxic waste disposal company to the Ninja Turtles¡¯ origins.
Heald added, with a laugh, that there could be even more TMNT connections in Cobra Kai, saying, ¡°It turns out the pizza oven in Daniel's kitchen factors heavily into where we're going¡­¡±
While it most likely won¡¯t include any Ninja Turtles, you can still see what¡¯s next for Cobra Kai when Season 4 premieres December 31 on Netflix.
---
For more on Corba Kai, click one the image below to see seven Karate Kid movie series characters we'd still like to see show up on the series.