For years now, many have had similar complaints about San Diego Comic-Con.
There are too many people. It takes forever to get from one place to another. You can¡¯t get into a panel unless you get there hours earlier to line up.
Well, this year, Comic-Con was here to nullify all of that! Though, at the same time, it took away a lot of other aspects of Comic-Con people have come to expect, some which no doubt are favorites to many.
This past weekend was the event labeled ¡°Comic-Con Special Edition,¡± as SDCC threw its first in-person gathering since 2019 (there have been two all-virtual ¡°Comic-Con@Home¡± events in that time), finally bringing panels, booths, and fans back to San Diego. Everyone knew this would be a very different version of Comic-Con, scaled back in many ways, beginning with it only being three days vs. the usual four (or five, if you include Preview Night) of a normal SDCC. Also, Comic-Con Special Edition taking place on Thanksgiving weekend essentially ensured there would be minimal big name talent and major Hollywood studio involvement – after all, many potential guests understandably simply would not be willing or able to participate over the holiday weekend.?Still, this was a meaningful event, given what San Diego Comic-Con means to people and how much its absence has been felt.
Minus a couple of years I missed early on, I¡¯ve attended nearly every San Diego Comic-Con since 1995 and was curious to see what the Special Edition was like. And, not shockingly, it felt like a Comic-Con unlike any other — though it certainly evoked the past, before Hollywood began to dominate the con, almost as though it were an alternate reality where the massive influx of movie and TV panels never happened and only a handful of those types of projects continued to be included. While it¡¯s unlikely to be replicated in this form again, and at times inevitably felt lacking, it also had its own merits.
PERSONAL SPACE! WHAT A CONCEPT!??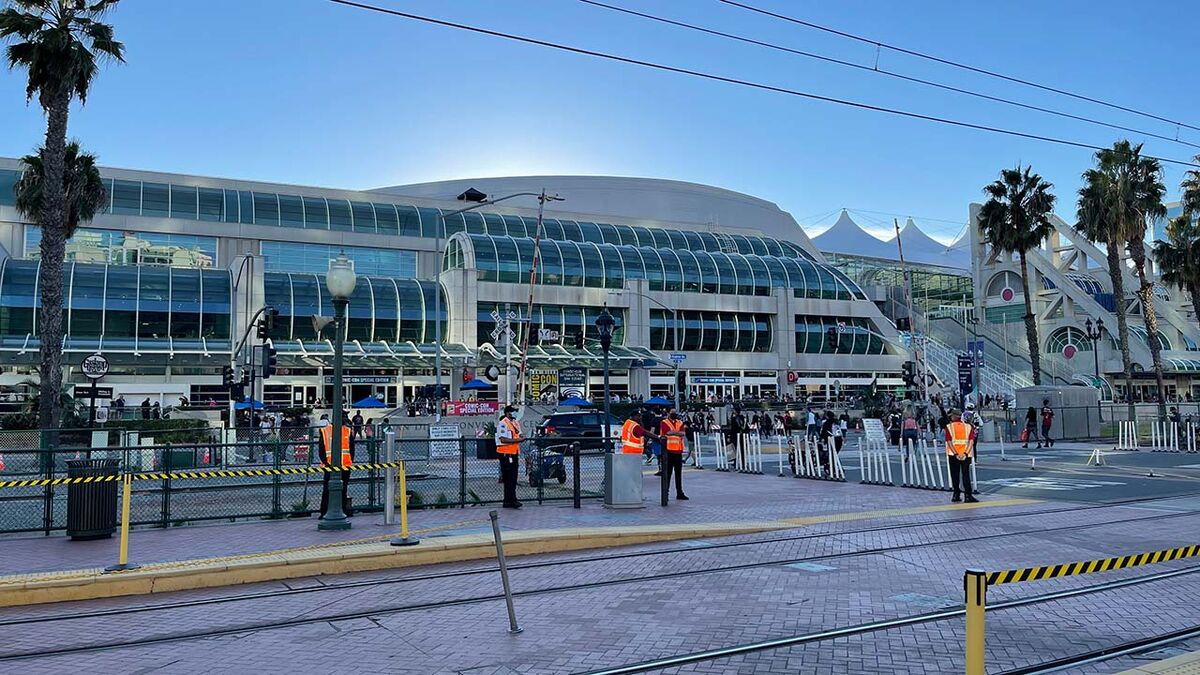 Comic-Con is usually just a sea of people. Everywhere you go, you are surrounded by people and very frequently, it can become overwhelming, with the aisles of the show floor transforming into some truly uncomfortable scenarios as too many converge together at once. All it takes is the adored cast of a CW show to be making an appearance at the Warner Bros. booth for hordes of people to stop at a single point on the show floor in an attempt get a glimpse, making it nearly impossible to simply walk by, among many other causes for congestion when that many people are in one building.
At Comic-Con Special Edition, or CCSE for short, this was never the case. Everywhere you looked there was¡­ room! The show floor was still the same massive space, but with less booths crammed into every corner, taking up every spot, and none of the big names like Marvel, DC, or Lucasfilm among them, for the most part. Couple that with there being far fewer attendees, and you could always comfortably walk around, never having to push through a mass of people to keep walking – something which has never been pleasant and obviously was even less desirable in the midst of a global pandemic. There still were some lines throughout the convention floor, some for notable attendees like Teenage Mutant Ninja Turtles co-creator Kevin Eastman, many for exclusive merch at various booths, but you could easily walk around those.
Of course, the biggest line was usually found, per usual, at the Funko booth.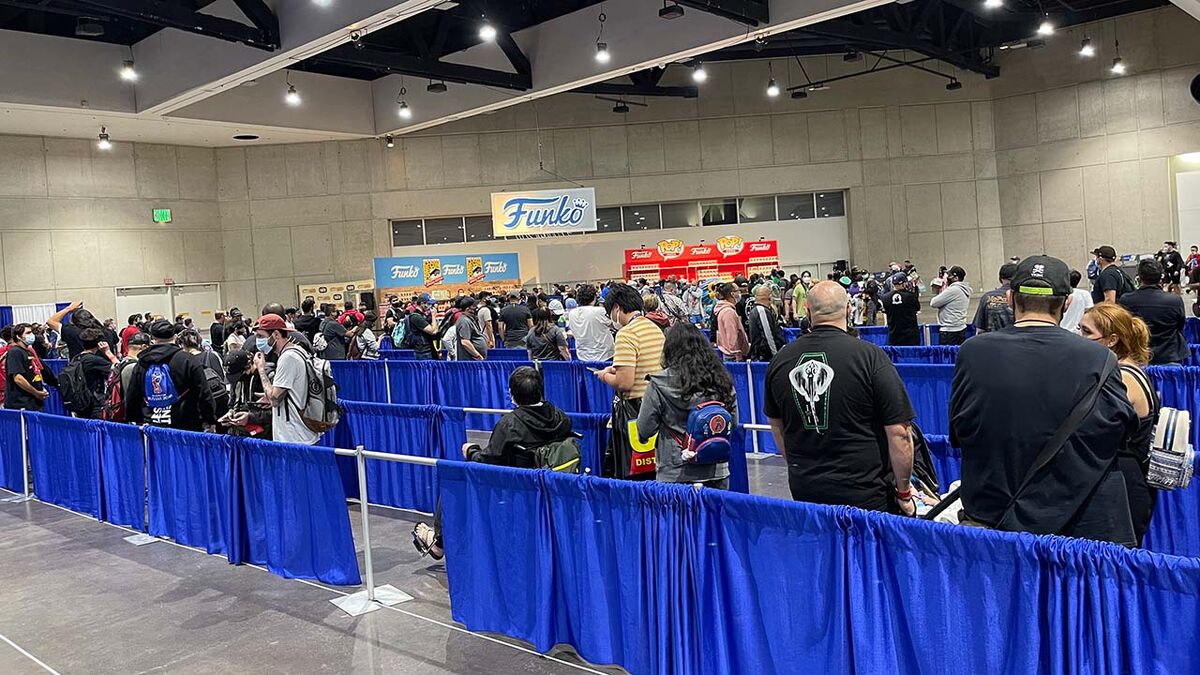 At a normal Comic-Con, because of all the people, you need to factor in a ton of extra time to get anywhere, including the simple act of crossing the street from any location nearby to reach the convention center itself, thanks to the commuter train tracks right out front and a very frustratingly designed pedestrian entrance, which forces everyone to cross the street at the same spot, rather than multiple points, in order to reach the convention center. During CCSE, even though you still might have to wait for the train to pass, the rest wasn't a concern. There was never that terrible bottleneck of people near the two small staircases going from the train tracks up to the convention center entrance.
With such spread out attendees, there were actually times you might find yourself in an almost eerily empty corridor, but usually, plenty of people were in sight – they just weren't on top of one another, and you simply had the luxury of being able to go when and where you wanted, without obstacles.
Though I saw reports of a relatively long line for the vaccination checks in place for this con when things first kicked off Friday morning, by the time I arrived that afternoon, the wait was about five minutes and it was even quicker to pick up my badge. All of which is hard to beat at Comic-Con.
A QUIET CON?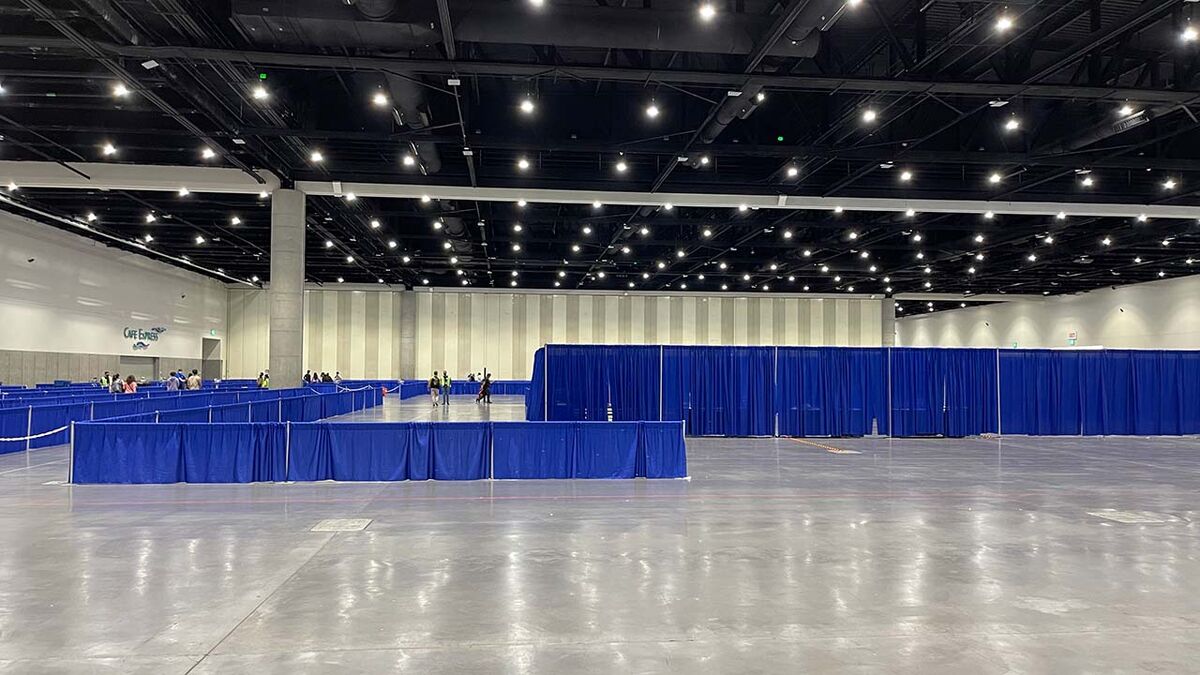 Of course, with small crowds and almost no studio panels (NBC¡¯s La Brea was one of the only panels put on by a major outlet), there was almost none of the incredible buzz and energy at CCSE that tends to hit Comic-Con in giant waves. The famed Hall H wasn¡¯t even being used for panels — there weren¡¯t any panels that could justify the use of 6000 seats — and the Hall H space was instead where you picked up your badge, offering a surreal visual for regular attendees of a brightly lit, nearly empty area, where normally thousands gather in front of a stage filled with huge stars.
Beyond the lack of those big name panels themselves was the lack of big announcements – it¡¯s a thrill to be in Hall H when Marvel Studios announces a bunch of new movies and series to thunderous applause, but even if you¡¯re not in that room in person, the buzz quickly spreads everywhere: ¡°Did you hear that they just announced Mahershala Ali is going to star in a Blade movie!?¡± That type of thing wasn't happening at Comic-Con Special Edition, so it couldn't compare in terms of excitement.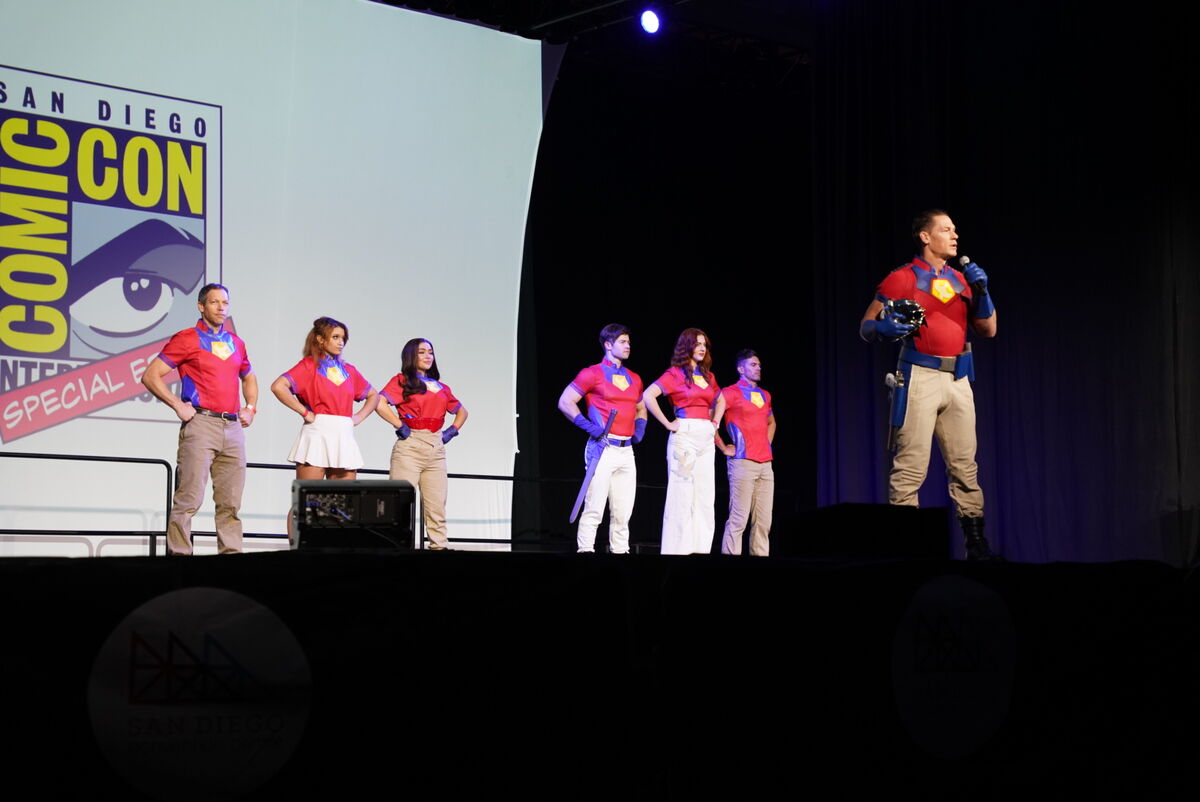 There was one nice big surprise moment though and it happened at an event that already was a crowdpleaser. Saturday night, per usual, was the always-popular Masquerade, a competition where some wonderfully skilled people show off the elaborate cosplay they have designed. At a normal Comic-Con, I never make it to the Masquerade; not out of disinterest, but because my schedule simply never allows for it. Not only do I often have a direct conflict, but to get in, you need to line up hours before.
This year, the Masquerade was the one and only Comic-Con Special Edition event held in what is usually SDCC¡¯s second-biggest room, the 4000-seat Ballroom 20. This was the largest gathering I witnessed over the weekend, with what looked to be well over 3000 people there, even though the room wasn¡¯t quite full. This meant I was able to successfully make it in, when I came by a few minutes before the event kicked off, and thus was there to hear the huge cheers when John Cena made an unannounced appearance in full Peacemaker uniform, to hype up the upcoming Peacemaker HBO Max series. The girl next to me was beside herself with excitement, repeating ¡°What the f***!¡± over and over at this huge star manifesting in front of us, and it was very much the kind of exciting moment one might expect at a ¡°normal¡± San Diego Comic-Con. And arguably, because of the situation, it got way more attention than it might otherwise at Comic-Con, where you typically expect to see a ton of stars like Cena.
THE JOYS OF COMMUNITY
(THE FEELING, NOT THE SHOW)?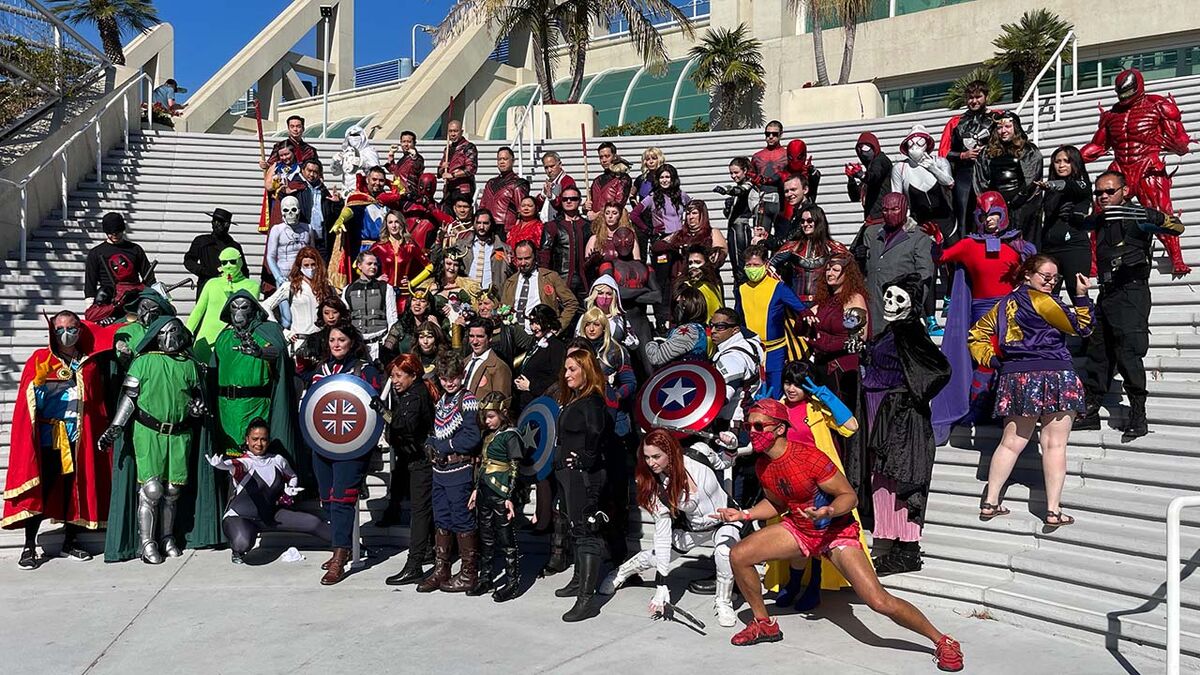 Personally, I found myself quite emotional as I arrived at Comic-Con Special Edition. I¡¯m a convention die hard and, especially, a San Diego Comic-Con die hard. Sure, I might complain about a lot of the inconveniences and stress that usually goes along with it, but ultimately, I love it, and the feeling of community and shared passion and excitement it evokes.
This was my first convention since SDCC 2019 and having been going to this con for 25 years, it felt great to walk up and see that convention center again after all this time. Yes, there were immediate differences from the norm – the lack of crowds, but also the lack of giant advertisements for upcoming films and shows covering every building in eyesight and the huge, studio-funded offsite activations filling the area surrounding the con. But you still had a bunch of people — even if it was relatively far less people — gathered together because of a shared love for?Star Wars or Marvel or DC or anime or games or Harry Potter or a million other things that have brought so many so much joy through the years.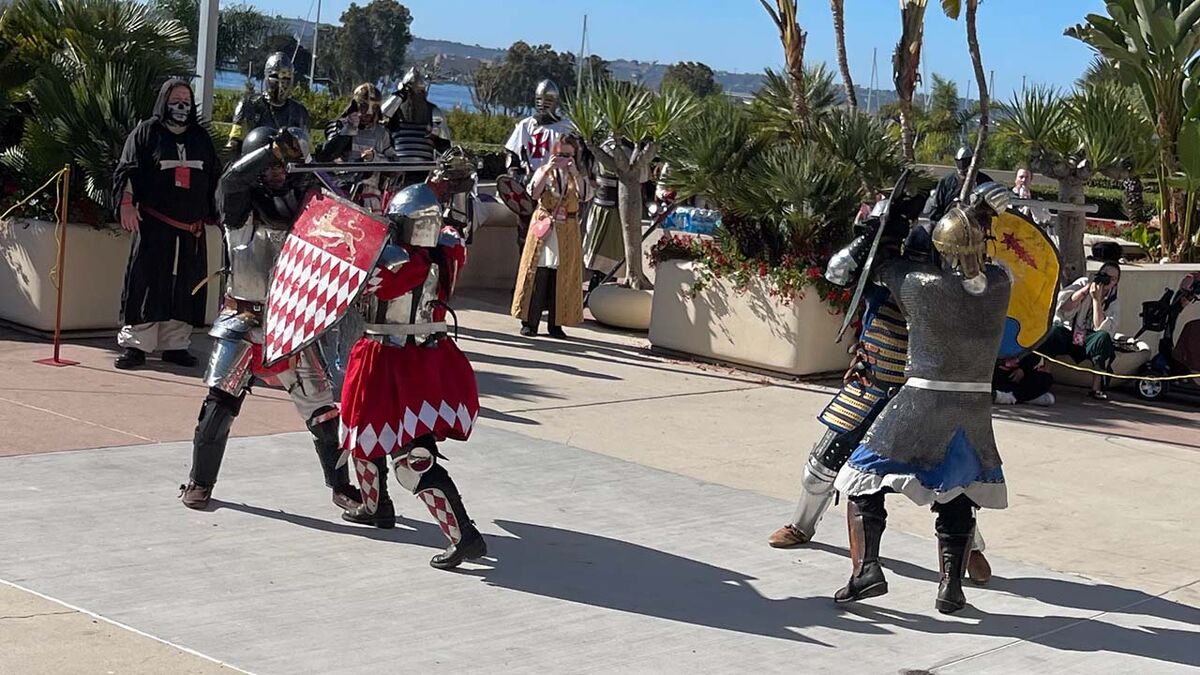 Comic-Con allows for so many different experiences, so while at a regular SDCC, some might go there almost entirely to see the big movie panels, you can also constantly find things going on all the time that have nothing to do with that – or indeed even require going into a panel room or the show floor at all. At Comic-Con Special Edition, many of these traditions were maintained, as the back patio area of the convention center remained a terrific gathering point for cosplayers, while there was still the same delight as always to be found in watching a group of likeminded folks dressed like knights have mock battles in that same area, or to peek in on rooms where many gathered to play tabletop games together throughout the weekend.
PANEL LIFE?
One personal advantage I had at Comic-Con Special Edition was that at a normal Comic-Con, I¡¯m incredibly limited with what panels I can make it to, missing out on a lot of really intriguing and fascinating ones due to schedule overlap. At CCSE, there were opportunities to check out these types of panels, which was much appreciated.
Scott Shaw, who co-created Captain Carrot and His Amazing Zoo Crew! And worked on comics like Sonic the Hedgehog, had a delightful look at some of the more bizarre, obscure, and obscurely bizarre superheroes and supervillains in comic book history – the likes of Jigsaw (Man of a Thousand Parts), The Eraser (Batman beware!), or B-Man. The Legal Geeks meanwhile took a look at just how the actions of the Ghostbusters would hold up to New York law.?In general, there were also many panels for notable comic book luminaries, past and present, ?discussing their work to enthusiastic audiences and it?was easy to correlate this to what it was like at Comic-Con in my earliest days attending the convention, when there was only a scattering of Hollywood panels, while the vast majority was still focused on the comics industry.
I asked Sam Maggs, who has written for comic books like Rick & Morty, Transformers, and Captain Marvel, what it was like for her to attend Comic-Con Special Edition, and she told me, ¡°It felt like Comic-Con 2003! Many folks I spoke with, including those who have been attending for decades, said it felt like SDCC twenty years ago, and that seems right to me. There were hardly any corporations or shows on the floor, and it was almost entirely independent and local artists. The programming team especially did an amazing job filling the convention with panels by and for fans, which was super exciting. It had an incredibly different vibe than the SDCCs of the past few years, but it was a really nice reintroduction to the Comic-Con scene¡ªand it was a lovely con for creators. Even in the big years, SDCC always has tons of comics and creators on the floor, but Special Edition was really able to highlight them in a very special way. I had an amazing experience, and I love being able to see and talk to readers and players again!¡±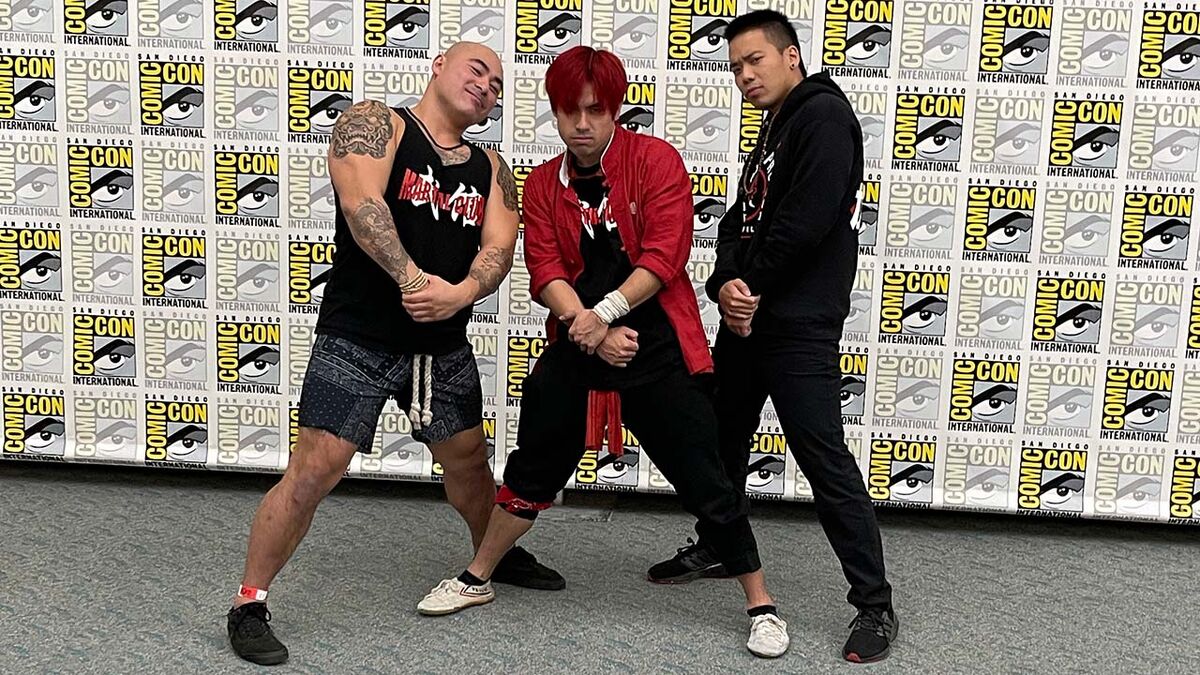 Meanwhile, the handful of panels for TV shows and movies felt more special in this environment, perhaps most especially one featuring some key players involved in recent Marvel Studios hit Shang-Chi and the Legend of the Ten Rings, where the focus was on the cultural impact and fight choreography of the film. While not an official Marvel Studios event, the panel featured three important contributors to the film:?Andy Le, who played Death Dealer, along with Joseph Le (action designer for Shang-Chi), and Brian Le (stunt performer and Simu Liu¡¯s trainer for Shang-Chi).
I spoke to Andy Le before the panel and noted that he was essentially holding down Marvel Studios¡¯ usual spot, as his panel was late on Saturday, very close to the time Marvel Studios would normally be taking the stage. This was Le¡¯s first San Diego Comic-Con — though he¡¯d been to other conventions — and he asked me how it compared to the norm. I told him that while it was much smaller than usual, I expected people were going to be pretty excited for his panel, which turned out to be quite true. The panel was completely packed — it should have been in a larger room, honestly, and many waiting in line were disappointed to learn they wouldn¡¯t be able to make it in — as fans listened to brothers Andy and Brian and their collaborator (the same last name is coincidental) Joseph discuss going from YouTube creators making videos for their MartialClub channel to working on a huge Marvel movie.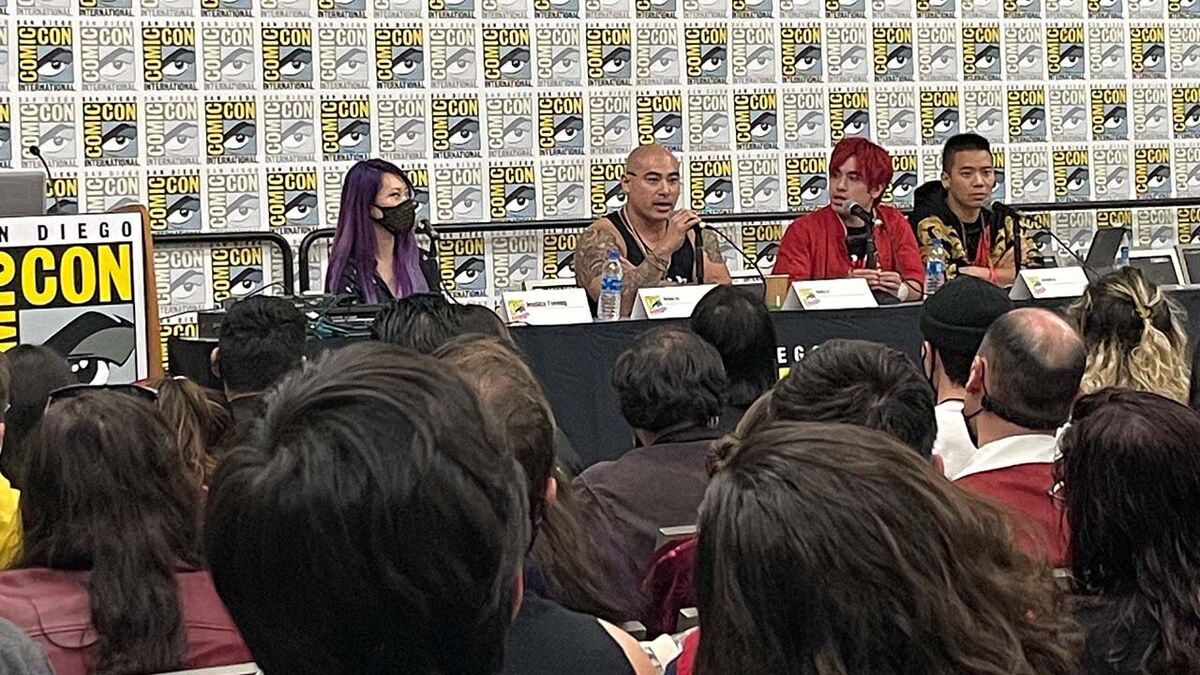 When we spoke, Le noted, ¡°It¡¯s kind of surreal to be here and hold a panel, because we were just joking about how a couple years ago, we would sneak around to these conventions, find the empty rooms with the panel setups, and we would just go sit on the table and take photos, like a mock panel.¡±
Le told me he was still adjusting to this next level of success, remarking, ¡°We came from YouTube. We started off and we just got discovered one day by the right people. All of a sudden, you're on a big A list movie with big name actors and a lot of actors I used to look up to; a lot of veterans from the Hong Kong martial arts action scene. Watching them on camera to sharing this screen with them is kind of surreal.¡±
Now, attending Comic-Con Special Edition, there were people all around Le dressed in Shang-Chi inspired cosplay, while Death Dealer action figures were for sale on the convention floor. Said Le, with a laugh, ¡±The action figures were just an extra plus!¡±
ACTIVATIONS ACTIVATE?
As mentioned above, the past decade has seen San Diego Comic-Con explode with so-called Activations – big pop up events, away from the convention center, meant to immerse you in the world of a show or film. Events in the past have included a ¡°Purge City¡± store, a Westworld set recreation, and a fancy, table service Taco Bell modeled after the one in Demolition Man,?for that film¡¯s 25th anniversary.

I had actually assumed beforehand there might not be any activations at all at Comic-Con Special Edition, but there were a couple. Beyond Tubi having a truck promoting their animated series The Freak Brothers,?where free?posters were available, NBC used their usual spot across the street from the convention center for an activation based on the just-renewed La Brea. Unlike the elaborate and lengthy NBC activations in recent years for shows like The Good Place and Brooklyn Nine-Nine, which involved going inside an area with multiple sets and numerous actors playing roles, this was less involved and essentially an elaborate outdoor photo op, but it was a fun one, with props and vehicles evoking the series and its tale of a portal to a?primeval land.
And praise must be given once again to HBO Max¡¯s Peacemaker, which not had that surprise Cena appearance, but also had an activation that felt the most like a regular Comic-Con experience – and had hour-long wait times to prove it. At the Peacemaker activation, you went into a recreation of Peacemaker's trailer home, where the very enthusiastic and very entertaining cast gave you a bootcamp style quick lesson as you were handed high powered Nerf pellet guns and went through a training exercise via a combat simulation, complete with a foggy tunnel, a tire obstacle, and the staff shooting their own pellets at you. Once you were done with that, you could sit and relax in some outdoor seating set up and get some free food at a Peacemaker-themed food truck. It was an impressive, well done experience.
Comic-Con Special Edition, in totality, had a lot to entertain and plenty of ways you could share your passion and enthusiasm with your fellow fans, per usual¡­ even as it felt very unusual that it could be so much more mellow in its overall vibe and lacked the urgency and excitement one equates with the event.
I look forward to seeing Comic-Con back to its usual atmosphere in the future, though I¡¯m guessing that next July, when the plan is to go back to more of a regular Comic-Con, those of us who attended Comic-Con Special Edition will have a few moments where we will long for that mellow vibe.