With the official opening upon us in March, I paid a visit this week to a galaxy far, far away 每 Orlando, FL 每 at a press preview for Star Wars: Galactic Starcruiser, the much talked-about new hotel at Walt Disney World that provides a fully immersive experience simulating a stay on a luxury ship, the Halcyon, operating during the period between The Last Jedi and The Rise of Skywalker.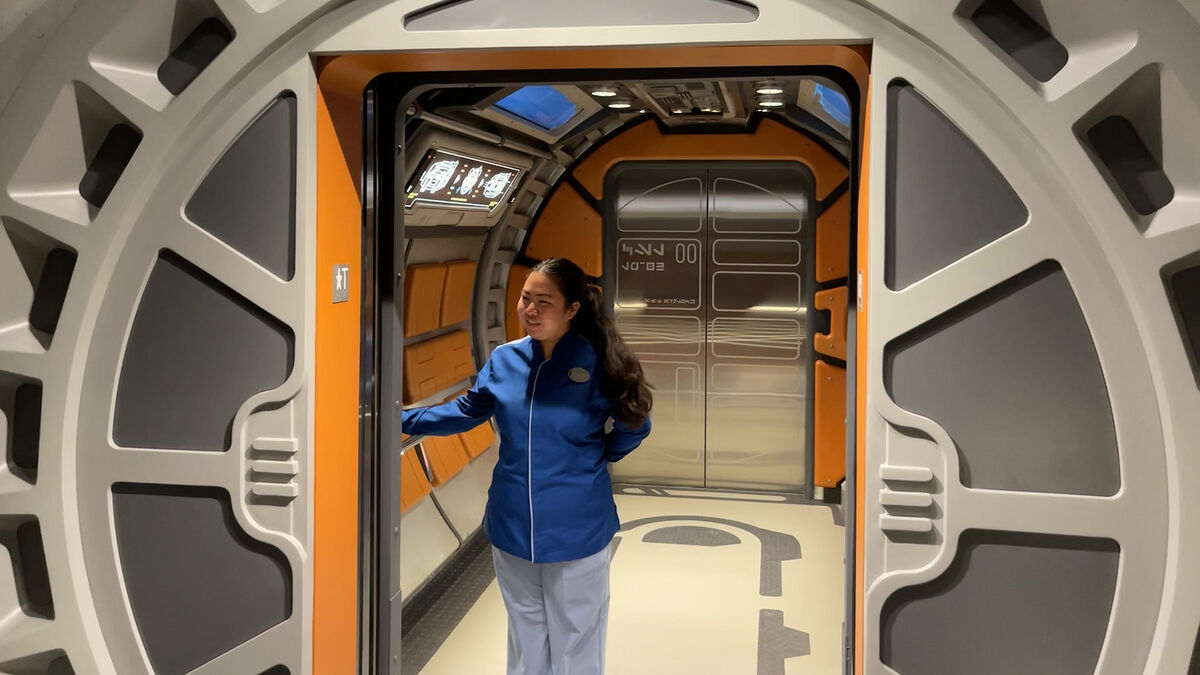 I should stress going in that I did not do the full two night experience paid guests will be getting, so my impressions below are based on the overview provided by this preview. Essentially, we were given a four-hour, incredibly sped up version of the Galactic Starcruiser experience, which included participating in many of the major set pieces and elements that further the main story along – and yes, there is a specific story being told the entire time you are there, though your role in it can vary. Unsurprisingly, doing it in this way left little room for the small, personal moments — along with other ship events — that one would have in between the bigger, plot-driven ones, which of course could add (or subtract) to the overall experience and how successful it is.
Still, there was a lot to take on so read below for info, reaction, and the all-important ※So is it worth it?§ thoughts. Also, while it seems a bit odd to put a Spoiler Warning on what is, ultimately, a hotel stay, there will be discussion (and imagery) of key elements you*ll find onboard for those who wish to not know without experiencing it firsthand for themselves though I*ll try and avoid being hyper specific on all that occurs.
ONGOING CHARACTER INTERACTIONS?
If nothing else, it feels impossible to leave Galactic Starcruiser without having high praise for the Disney cast members who populate it. Not only does every single person there 每 from bartenders in the ship*s bar, the Sublight Lounge, to bellhops assisting you with your room 每 need to stay in character as though they are working onboard the Halcyon starship, but several featured players in particular are constantly going all in in terms of full performances, while also navigating any potential curve balls from guests interacting with them.
Before the Halcyon takes flight, there is time to mingle in the main lobby, and I found myself having conversations with the likes of the ship*s?Captain , Riyola Keevan, an onboard entertainer, the Twi'lek singer Gaya, and Gaya*s manager, Raithe Kole, all of whom effortlessly carried on long, entertaining conversations – Keevan, for instance, told me about her history serving on various ships, the Halcyon included, and why she loved this 275 year old ship more than any other.
Raithe meanwhile quickly provided me with a hint at the detours and paths your experience can have. My offhand mention that I was hoping to have an ※adventure§ during my trip led him to take me aside and ask me to help with a covert mission for him on Batuu, something that I would accomplish during the full Galactic Startcuiser experience on a trip to the planet Batuu at Star Wars: Galaxy*s Edge (AKA: a trip you take to Disney*s Hollywood Studios?theme park for a few hours).
All of these folks, among several others, weave in and out of the entire experience during your stay, sometimes from afar 每 Gaya, as you might expect, performs for you during a meal at one point 每 but often in one on one moments where your previous conversations are brought up again or might lead to other moments of secrecy or stealth operations.
For example, the member of the Saja (more on them below) who led my lightsaber training session later appeared again to invite a few of us to visit an atrium area and have a bit of practice stacking rocks in a way that inevitably evoked Luke and Yoda on?Dagobah – including, for one lucky guest, in a more overt display of The Force.
It all gives the experience the feel of a big, two-day show that you have become a part of. If you ever were in a college improv group — or wished you were — Galactic Starcruiser will let you use those skills and then some. On the other hand, if the idea of being asked to play along in such a way fills with you with dread, well, this probably isn't for you.
THE LORE OF IT ALL
Star Wars: Galactic Starcruiser takes place not just during the same time period in Star Wars history as Galaxy*s Edge at both Disneyland and Walt Disney World, but directly intersects with it. The things that occur in Galaxy*s Edge 〞 including on the attractions Millennium Falcon: Smuggler's Run and Rise of the Resistance?〞 are referenced and reflected by events at Galactic Starcruiser, which both lead into and follow-up story elements from those rides, with the excursion you make to Galaxy*s Edge layering in those components directly. All together, it fills in a lot of gaps about what the Resistance was up to between Episode VII and Episode VIII and even provides a big new showdown between two key characters from the films.
As Matt Martin (Senior Creative Executive, Lucasfilm Story Group) explained, ※We were developing Starcruiser sort of concurrently with Galaxy*s Edge and Galaxy's Edge was developed alongside the sequel films. And so at one point, I built out this elaborate timeline with Galaxy's Edge and what I call the Battle of Batuu, which is [what happens in] Rise of the Resistance, as the key moment in between those two films. Starcruiser is a part of that, which actually adds even more context to all of the goings on that happened here. In Starcruiser, you see Rey and Kylo Ren come face to face again, and that might be the only time that they have really come face to face between those two films.§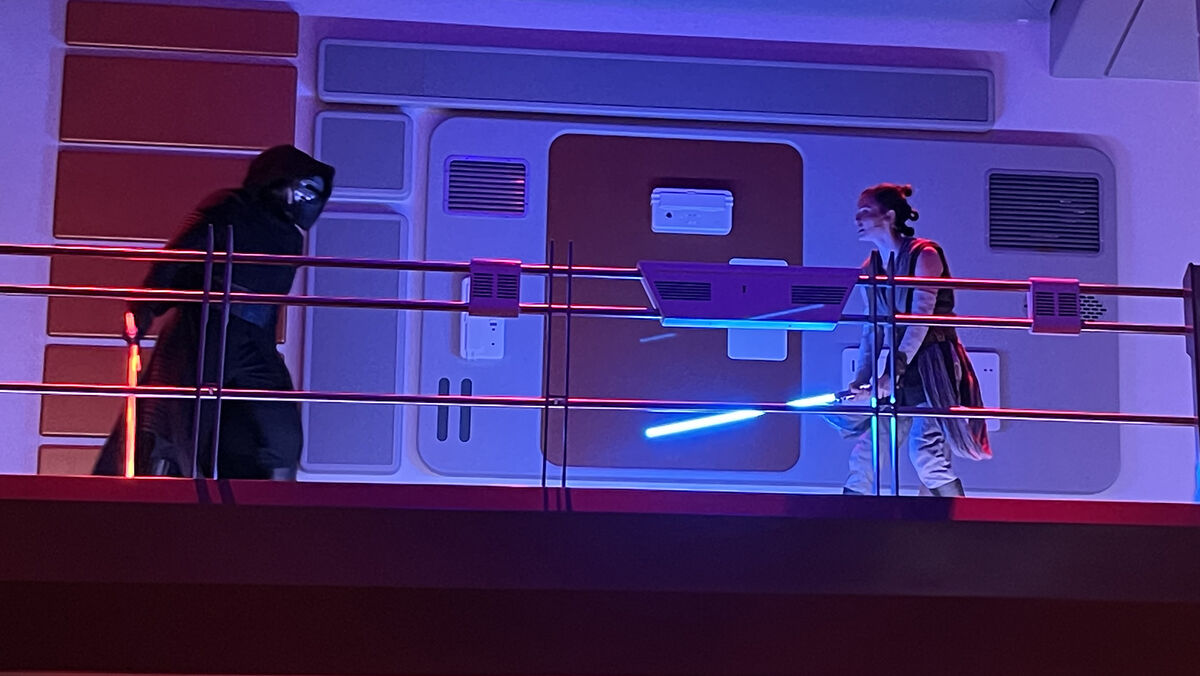 One component of Galactic Starcruiser that I was particularly intrigued by were the Saja, who give the lightsaber lessons onboard the Halcyon. These clearly can*t just be regular Jedi hanging out on this ship, in an era with few Jedi to speak of, so what is the backstory to their skills?
As Martin explained, ※They're not Force wielders but they have a deep reverence for The Force. They're descended from the Guardians of the Whills you see in Rogue One. Obviously, in Rogue One, the Death Star shoots Jedha, so there are not a ton of Guardians left, but the Saja are a group that keep the spark alive and keep that belief going. The Saja have partnered with ?Chandrila Star Line [the company behind the Halcyon] to teach lightsaber training on their ships. It's almost kind of like Tai chi or yoga on a ship. It's a relaxing, kind of meditative space and environment.§
With the Halcyon being incorporated into plenty of other Star Wars stories these days, from the Marvel comic book?Halcyon Legacy?series to being part of The High Republic publishing initiative, it's safe to assume we likely will get more on the Saja and other specifics you encounter in Galactic Starcruiser down the line as well.
Having gone through the lightsaber training myself, it definitely includes plenty of introspective and thoughtful moments led by the Saja (amongst the innate coolness of getting to feel your lightsaber react as you deflect a blast inside a lightsaber training pod), while also providing more of a physical workout than you might expect. The training gets increasingly more intense and fast paced 每 and involves using both lightsabers and the introduction of shields to block those blasts 每 and a few of us laughed about working up a sweat by the end, after a ton of ducking and lunging.
As for hidden Star Wars references in Galactic Starcruiser, Martin noted, ※There's definitely Easter eggs in there. I've been telling everybody this, but there's one thing the engineering room I don't think anybody's discovered yet. There's been a fair amount of them. If any of your readers do come to the Halcyon, dig deep.§
WAR COMES TO THE HALCYON?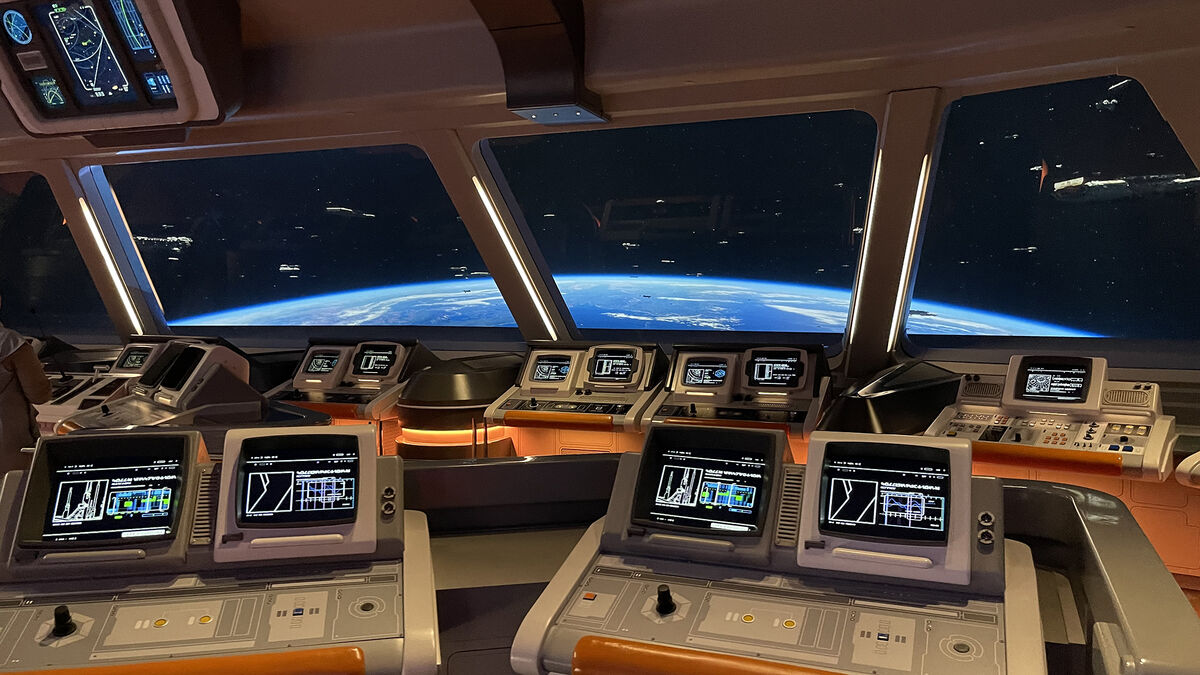 Star Wars inevitably needs to have some war in it to live up to that title and so it makes sense that the overarching plotline of Galactic Starcruiser brings the conflict between the Resistance and the First Order into the mix. This begins with First Order Stormtroopers, under the command of?Lieutenant Harman Croy, boarding the ship, but continues to escalate during the entire experience, such as the arrival of a certain Wookiee Resistance member and interaction with several other familiar characters along the way.
There*s plenty of ※Ah, this might come in handy§ set up provided, such as a visit to the bridge of the ship where you take part in a combat simulation (you get a chance to operate both weapons and shields), which gives you the skills necessary to man those battlestations ※for real§ when the First Order becomes more of an immediate threat.
As Ann Morrow Johnson (Executive Producer and Creative Director, Walt Disney Imagineering) told me, the approach to Galactic Starcruiser was ※a true blue sky project. We asked &What do you want to do in Star Wars?*§ That included lightsaber training and also, as Johnson put it, ※You want to be at the front of the ship, and actually be the one to blow up TIE Fighters at the front of a big cruiser!§
The bridge portion, perhaps inevitably, has a video game feel to it (working the shields is essentially like playing Pong) but on a large, group level, where everyone is cheering on the shared victory of blowing up those aforementioned TIE Fighters.
STAR WARS-ING EVERYTHING,
BATHROOMS INCLUDED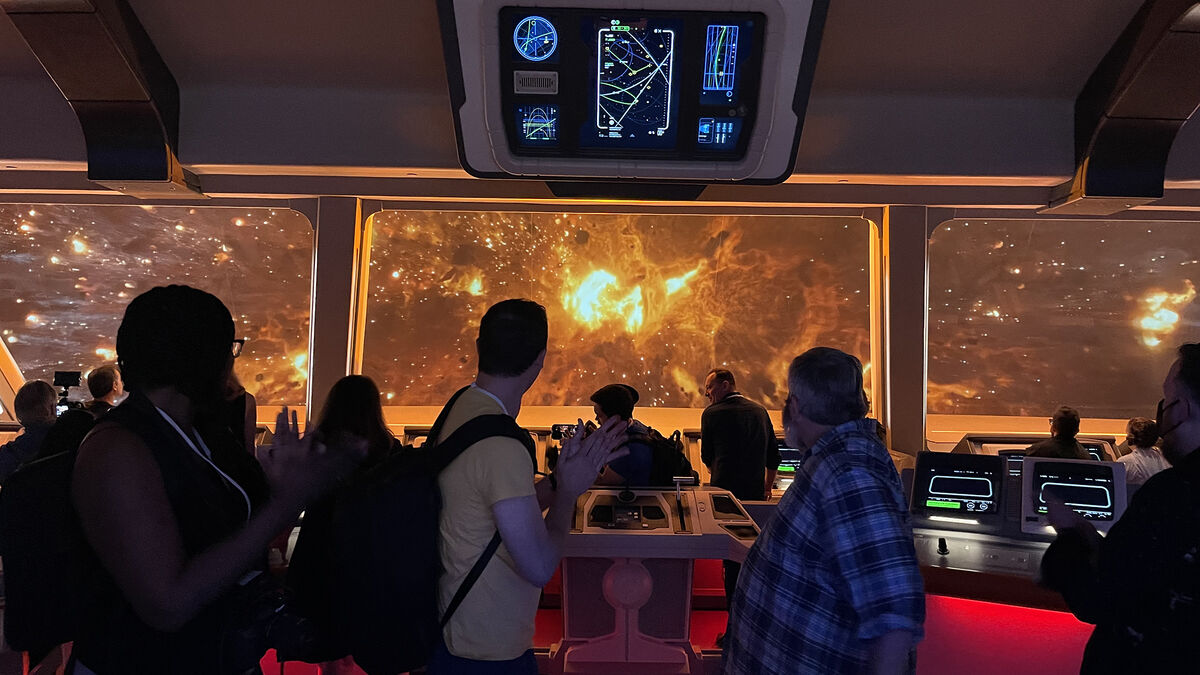 Doug Chiang (Vice President / Creative Director, Lucasfilm?Creative) has been a key part of coming up with Star Wars* visual design going back to his collaboration with George Lucas on the prequels, and his Star Wars contributions continue with Galactic Starcruiser. Asked his favorite part of the ship to visit now that it*s complete, Chiang remarked, ※The bridge is so fun, because there's so much to do. Besides the spectacle that you're seeing outside a window, there's all the things that you can do with the control panels, the gameplay that's involved in protecting the ship is just so interactive that it feels like a real functioning bridge.§
Amongst getting to design a new bridge, in the manner he might for a film, Galactic Starcruiser also provided Chiang opportunities to think of the Star Wars version of all sorts of things that might be skipped in a movie or series because ※It*s not necessary for the storytelling. On the Starcruiser though, we actually have an opportunity to design something like restrooms, which we've never seen, but obviously they have to have them. It was really fun to get that immersed in terms of design to figure out all those things. Even the restaurants, for instance# We've seen so many different cantinas and restaurants in the cinematic experience but here now we have to design a functioning restaurant that actually works so that people can service it and functions as a space where you can actually eat and be entertained.§
On Galactic Starcruiser, the story naturally positions the Resistance as the heroes and there are many opportunities to help them – but you don*t have to. In fact, you might be given the opportunity to help the First Order if you wish to, perhaps offering them information on what you know about the Resistance*s plans. Said Anisha Deshmane, a Creative Producer at Walt Disney Imagineering, with a grin, ※This is a really great opportunity for our guests to maybe explore a part of themselves that they wouldn't normally. Try out a new version of themselves; maybe try that First Order path or try that Resistance path or play both sides. Be a scoundrel!§
IS IT WORTH IT??
So here*s the million dollar question – or, more accurately, the $5,000 or so question, since booking a stay at Galactic Starcruiser (which only has the two night option available) begins at $4,809 for two people and ventures up to at least the $6,000 range for a group of four to stay the two nights, the latter of which can include making use of the two bunks and additional fold down bed in the rooms. It should be noted there are more expensive possibilities as well, including larger suites.
To be fair, it*s also worth noting that paying for Galactic Starcruiser does get you quite a bit of extras. All your meals are paid for with that reservation price (though the drinks at Sublight Lounge and, of course, the in-merchandise are extra), and you*re getting entry into Disney*s Hollywood Studios theme park for the trip to Galaxy*s Edge 每 including guaranteed access to the continually popular Rise of the Resistance 每 along with valet parking for the duration of your stay.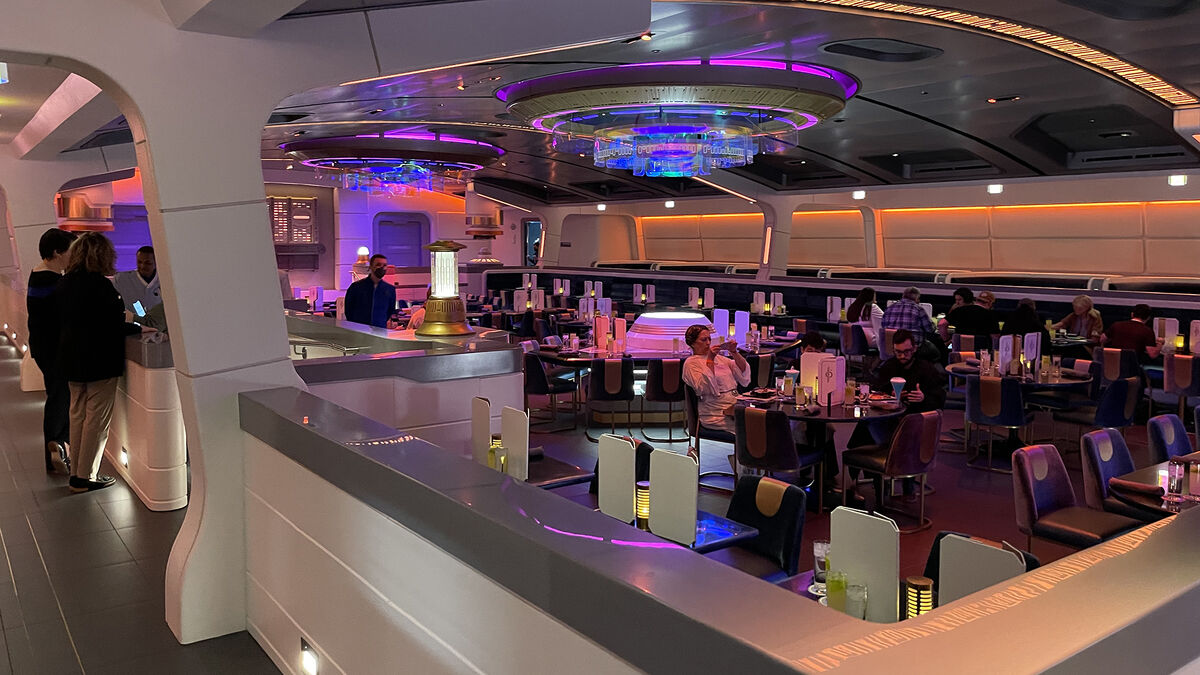 No doubt, you feel all the work that went into Galactic Starcruiser, which has got a ton of entertaining, fun, and even emotional moments for Star Wars fans, and there*s a lot to enjoy about all that you can see and do throughout your time there. Doing the Cliffs Notes version I did left me quite exhausted and some folks I spoke to who did the full experience said they came out of the entire thing feeling the same way, with their two days packed. But to truly decide if it*s worth it for you, I think you have to be able to answer yes to all three of these questions:
1. Are you a REALLY big Star Wars fan??
It seems simple enough to decide, but still, there are so many levels of Star Wars fans and it would likely take someone very, very into it to want to devote the better part of 48 hours to go this deep into this world with little to deviate you away from it for the entirety of that time except actual sleep. Of course, considering Star Wars* popularity, many would consider themselves just that sort of fan, so this is no doubt the question the most amount of people would give a hearty yes to.
2. Are you able to enjoy and take part in participatory theater??
Here*s where things get tricky. Because the level of value you get out of Galactic Starcruiser is really based upon how much you*re willing to play along. You*re not going to be forced to participate in any of these different individual events, but at the same time, if you*re just there to sit and watch, well, it*s not really about that and that sure sounds like a waste of good money. Look, spending two days pretending Star Wars is real is innately a goofy thing to do, but for some of us, it's invitingly goofy while for others it's an absolute no.
But do you leap at the chance to be an audience volunteer? Would one of those live murder mystery shows be fun for you? Even someone who is up for Escape Rooms likely would be a good fit for Galactic Starcruiser – a portion of the story in the Engine Room, involving data-tapes (like the one Jyn Erso used to steal the Death Star plans) and figuring out a visual puzzle of sorts felt like a bit of an Escape Room scenario, ticking clock included. And it perhaps goes without saying that if you lean towards cosplay or LARPing, this seems like a perfect fit. Galactic Starcruiser is essentially one, big LARP that everyone present, from cast to guests, is implicitly participating in. If you*re there, it*s quite likely you*d want to dress the part of a Star Wars citizen, which is encouraged and something you can pay for ahead of time or while onboard ?每 again, a shocked gasp at hearing about Star Wars products 每 with costume options available at an additional charge, if you don*t already have Star Wars fashions at the ready in your closet that is.
The entire Galactic Starcruiser experience is predicated on you essentially performing improv with the cast and letting yourself go along with the immersion. The enthusiastic group I did the preview with got very into it all – there were many moments where we all cheered when someone had a big accomplishment or made a big entrance, in the midst of running around trying to finish tasks together.
But if that*s not you, well, this would all likely feel like an annoyance, even if you really, really enjoy watching Star Wars movies, since this is a very different type of interaction.
3. Is $5,000 reasonable for you and a pal to spend on a two-day/two-night event?
Obviously the price is a considerable amount and means Galactic Starcruiser simply isn*t a casual option for a ton of Star Wars fans. It*s not a price beyond comprehension, as many people pay that type of money for other Disney theme park trips or cruises, but it*s still a lot to be sure and understandably a big determiner here. But if you have the money or could save up that money for a trip without feeling it's a burden and the answer to those first two questions is also a firm yes, then what I saw makes me feel Star Wars: Galactic Starcruiser is indeed worth it.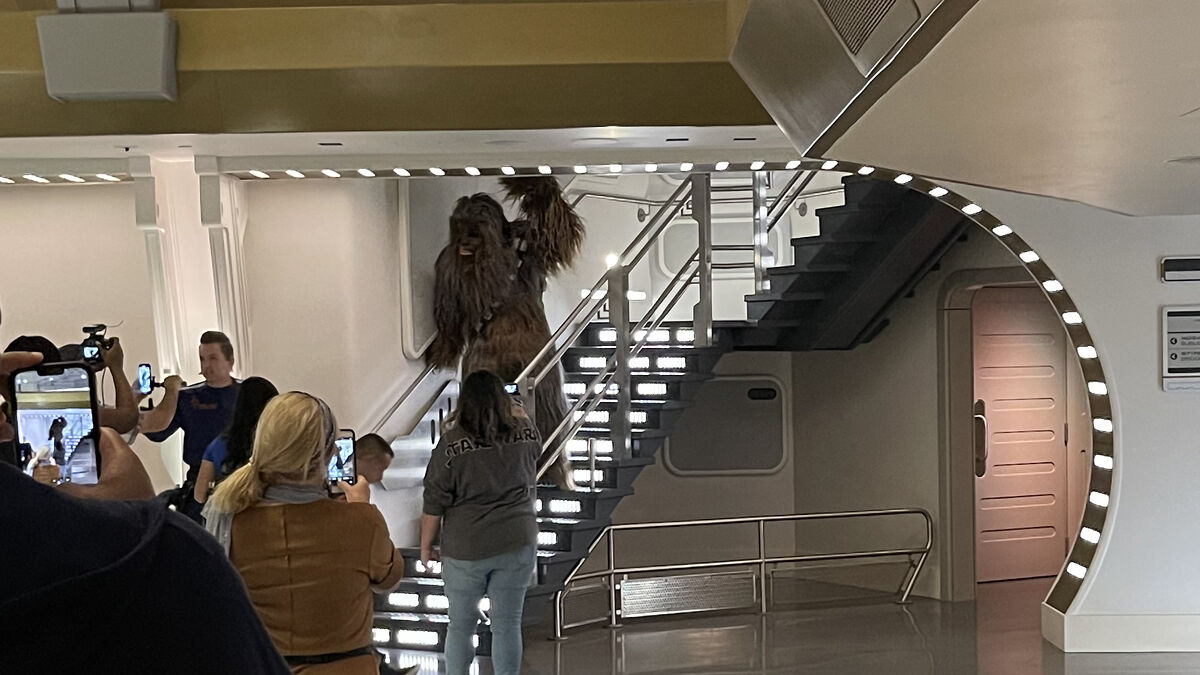 It comes down to this: If you*re the kind of person who is innately excited hearing the possibilities of a super immersive, participatory, two night Star Wars-themed hotel stay, this experience delivers on what you would hope for from such a thing in a big way. It lets you play out being right in the center of a Star Wars story in a highly detailed, fun, memorable, and incredibly interactive way — I need to once more commend the excellent, go for broke cast members — and you*ll leave feeling satisfied.
If, however, you*re more inclined to keep your hotel experiences traditional (some just want a bed to sleep in between days venturing out after all) and use your hard earned money towards a variety of theme park and/or restaurants or other experiences that aren*t going to ask you to play along with pretending to smuggle items for the Resistance, well, there are many other great other opportunities on that front from Disney and their competitors.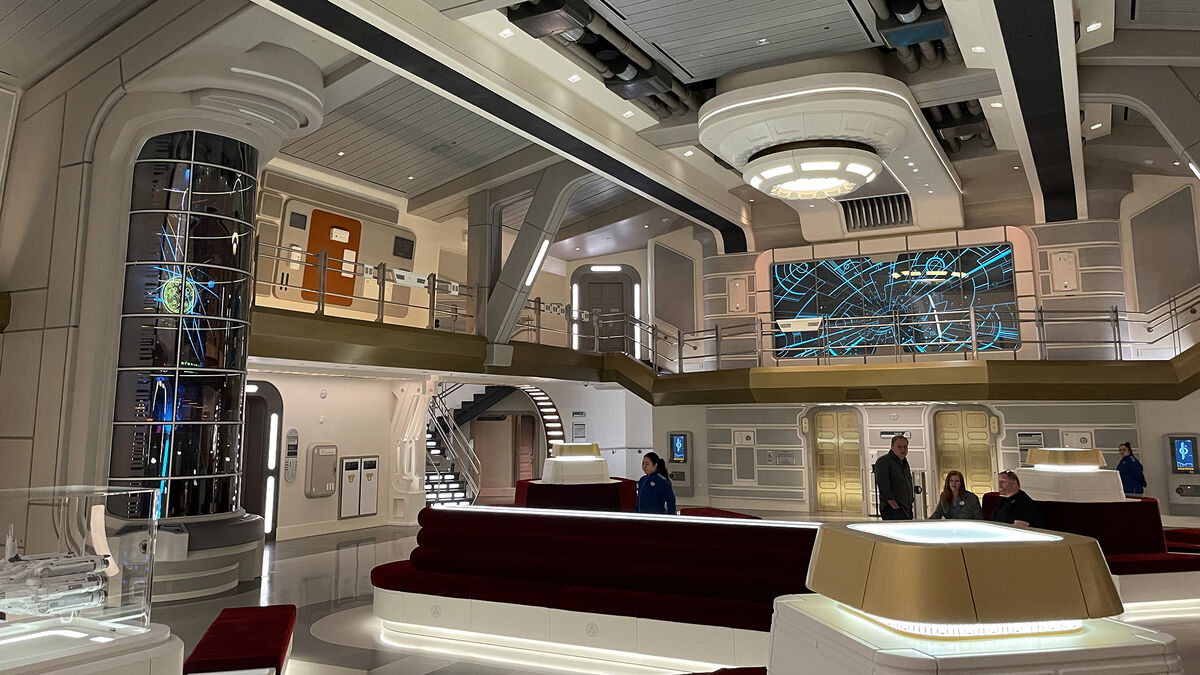 There are people who are eager to jump in when asked to participate in some manner at certain performances and those who that just isn*t fun for. I*d say you*d need to have at least some inclination towards jumping in to want to be on Galactic Starcruiser, because when a Twi'lek singer is asking you to get up and do a goofy dance during her performance, you need to know if you*ll be ready or not. This is a cruise ship in space after all.
Click on the image below for more on what Doug Chiang had to say about the challenges of designing Galactic Starcruiser vs. designing a Star Wars movie.