Since her debut hosting horror films on Movie Macabre in 1981, Elvira has become a pop culture sensation. Portrayed by Cassandra Peterson, Elvira has spent the past forty years popping up in TV shows, specials, and movies (including starring in her own feature film, Elvira: Mistress of the Dark), while teaming up with the likes of WWE and WCW pro wrestlers, Super Mario Bros., the Scooby-Doo gang, and The Goldbergs, along with so many more.
There¡¯s also been plenty of merchandise too, though the most impressive may be one that is brand new: the Elvira – 8¡± Clothed Action Figure from NECA. It was the release of this figure that led me to jump on the phone with Cassandra Peterson to discuss its release and her participation in Haulathon, a collectors event from NECA and Target that includes the release of signed variants of certain figures ¨C including for the Elvira figure ¨C and panel events.
And yes, she did stop me when I remarked that NECA was releasing ¡°a great figure¡± based on her and slyly repeat the phrase, just as one would hope Elvira would do.
TOY SURPRISE?
When I asked if she felt she could reach the point where there are Elvira toys when she started out, Peterson explained how it was unfathomable when she originated the character considering how small scale?Movie Macabre felt at the time.
Said Peterson, ¡°When I started, I was just thrilled out of my mind to have any kind of job that paid a couple hundred bucks a week. I did not have any foresight into, ¡®Oh, this is gonna last forever.¡¯ I thought it would last a few weeks. I thought it was pretty ridiculous and the movies [on the show] were terrible, so I just thought, ¡®This isn't going to be happening.¡¯ Nobody was more amazed than me when it took off. And then it took quite a while to be able to get the merchandising and the licensing going, because first we had to get the rights to the character, which we did not own. But yeah, to answer your question, hell no!¡±
Regarding the new NECA figure, Peterson said, ¡°This one I absolutely love. I have to be honest and tell you I've had a few other action figures out there and they were so horrible. One I call the ugly troll doll. The first one I had is just insanely hideous. People still bring it to me to sign and I don't even want to sign it because it doesn't look right. It's horrible! Then I had one that was sort of okay, but not great. This one is perfect. It's fantastic. And even has little clothes and a little dagger and everything. And it¡¯s articulated, which none of them have been. So it really is the real action figure; the one that I wanted from the beginning but never got until now.¡±
GIVING INPUT
In the case of the NECA figure, Peterson said she was able to give her own input as far as what she¡¯d like to see, remarking, ¡°I had many, many thoughts. We actually came to them with all kinds of ideas about little various items that can go with the action figure. They started out with a kind of the baseline – Elvira and a few little accouterments there." The figure has a second, swappable head featuring her winking, and Peterson noted, "I love the two heads. It's so awesome. The Thing With Two Heads!¡±
Peterson said she hoped for some additional accessories to eventually be produced, noting, ¡°We have ideas for all kinds of little things that could go along with it down the line, including different clothes, an old 50s TV, my sofa, etc, etc.¡±
ONE OF THE HORROR GREATS?
There are many figures in NECA¡¯s 8¡± Clothed Action Figure line at this point and I noted to Peterson that, as a collector of many of the horror figures, this meant she was coexisting on toy shelves with the likes of Freddy Krueger, Jason Voorhees, Michael Myers, Chucky, Leatherface, Candyman, and Ghostface.
When it came to being seen as a horror icon at that level, Peterson exclaimed, ¡°Oh heck yeah, I mean it's fantastic! And I'm extra happy because in the world of horror, it's a little bit of a boys club. And it's nice that they've got Elvira in there finally to represent that girl.¡±
Added Peterson, ¡°Back when I started Elvira, I have to say, I remember going to one of the first Comic-Cons in San Diego and being one of the only women there, with hundreds and hundreds of guys. It was a trip. So I¡¯m still fighting that battle but a lot more more women are getting involved in the horror world, so there should be some more female action figures coming down the pike when it comes to horror.¡±
SPEAKING TO THE FANS?
At this point, Peterson has spoken to countless fans through the years, so with Haulathon including panel events, I asked her what question she tends to hear the most from the fans, and without missing a beat, she replied, ¡°Well, they always ask, ¡®Are they real?¡¯ They're talking about my fingernails, of course.¡±
More seriously, she observed, ¡°They like to know a lot about Cassandra Peterson, the woman behind it. A big question I always get is how did I meet Elvis. ¡®Tell me about Elvis!¡¯ That's a fan favorite, always. But my fans generally know a lot more than I do about all the old movies. They have better memories than me.? I've hosted so many old B horror movies over the years that they all kind of run together in one big horrible movie,¡± laughing that the fans' recollection being so much better than hers reminded her of the old William Shatner SNL convention sketch.
THE ADVENTURES OF
PEE-WEE AND ELVIRA
Someone who became famous around the same time as Peterson, ¡°Weird Al¡± Yankovic, now has a biopic in the works about him starring Daniel Radcliffe, and Peterson said if she ever got the biopic treatment, when it came to a star, ¡°I've already picked it out. Dolly Parton, hands down,¡± laughing that she¡¯d want Parton to somehow play her as a child as well.
Another contemporary of Peterson¡¯s is her old friend Paul Reubens. The two are not only both alumni of the acclaimed comedy troupe the Groundlings but had very specific alter egos made famous in the 1980s ¨C Peterson with Elvira, Reuebens with Pee-wee Herman ¨C that remain beloved to this day.
When I brought up this commonality, Peterson replied, ¡°Yeah, it is unusual, Paul and I talk about it all the time. And he always says, ¡®You and I are the members of the world's most exclusive club,¡¯ to both have completely different characters that look very different from our real selves and to have them continuing this long¡­ I would say for me, being kind of hitched to a national holiday, maybe even an international holiday, is a pretty darn good thing to have happen. I can kind of disappear a little bit, but around Halloween, I'm back every single year. With Paul, I think it's just he's so freaking brilliant and funny. And he does a lot of acting out of his characters, so that kind of keeps him around. I don't do as much just because I don¡¯t really like acting all that much!¡±
WORLD WRESTLING ELVIRA-TAINMENT?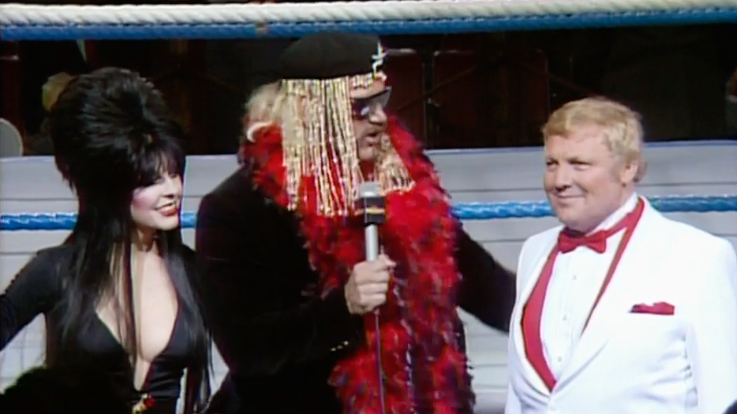 As someone who grew up as a fan of both Elvira and wrestling, I asked Peterson what it was like when she did some work alongside wrestlers – Elvira would provide commentary with Jesse Ventura and Lord Alfred Hayes at WrestleMania 2 and then, a few years later, appear in promo videos for both the 1990 and 1991 editions of WCW¡¯s Halloween Havoc.
Said Peterson, ¡°For me, it was freaking awesome! I grew up with my dad watching wrestling on TV every night when I was a kid and it was one of our favorite things to do together. So when I got older, and I actually got to go to one of those matches and meet all these people that I had even seen on TV as a kid, some of them, it was kind of mind boggling. I was super impressed. For me, it was, ¡®Whoa, you know, I've made it to the big time!¡¯ I met Jesse Ventura, who was a favorite of mine, and Hulk Hogan and a bunch of them. I had a really, really fun time with them. Because somehow wrestling fits into horror. I don't know how… Wrestlers, Heavy Metal musicians and horror seem to all show up at these conventions together. It¡¯s odd!¡±
---
The Elvira 8¡± Clothed Standard Edition action figure is available to purchase at the start of Haulathon on 3/18 in Target stores only and will be available to purchase online at Haulathon.com and Target.com starting 4/8.
The Signature Edition Autographed Elvira figure is available to purchase at the start of Haulathon on 3/18 in Target stores only and will be available to purchase online at Haulathon.com and Target.com starting 4/1.