With big fan events coming to a halt a couple of years ago when the pandemic began, comic conventions are building back up to their previous size bit by bit. Back in late November, San Diego Comic-Con held a Comic-Con ※Special Edition§ event that was, by design, a far smaller scale version of what one would usually find at SDCC, and this past weekend, Comic-Con*s first WonderCon since 2020 took place in Anaheim, CA.
While not as big as previous WonderCons, it was still notably livelier than Comic-Con Special Edition, including the presence of some big studio panels — which were notably absent at Special Edition — for the likes of Star Trek: Picard, Superman & Lois, and Bob*s Burgers, and plenty of creative cosplay on hand. And in the midst of WonderCon, one thing remained as true as ever: The Funko booth was packed and required patience to get into.
Even during the quiet Comic-Con Special Edition, there was always a line to get into the Funko booth and at WonderCon, the company 每 the home of the ridiculously popular Funko Pop!?figures, among other brands 每 scaled everything up in a much bigger way. This time out, there was the usual long wait to get into the booth, but the booth itself also stood out for its theming and amplified party atmosphere, with those in line cheering both the entertainment and the opportunity to win giveaway items.
Those who finally had their turn to go inside the booth and purchase the oh-so desired exclusives available at WonderCon — which included new figures for?Peacemaker, She-Ra, Wall-E, The Emperor's New Groove, Loki, and more — were given a full show in the lead-up, with a throwback beach theme that included a DJ, a host, hulu dancers, and an entire cast of characters who interacted with fans and gave out those freebies, portrayed by Funko staff members.
It was very much a sight to behold, including witnessing many Funko staff being asked to sign autographs by several loyal fans. It*s the kind of brand loyalty you can only dream about and I spoke to Jennifer Hidalgo, Funko*s Social Media Manager, about the company seeing this kind of connection with their fans prosper.
THE THEME ERA BEGINS?
The booth at San Diego Special Edition had been a standard one, but as Hidalgo noted, quieter con or not, ※The fanatics came out and we sold out of our exclusives. It was cool, because we were off in the corner and we were kind of away from the other vendors so we were able to party and give away presents.§
Then in December, Funko did a holiday-themed booth at Emerald City Comic Con in Seattle, where that aforementioned party atmosphere began to become much more tied into the entire scenario from the ground up. As Hidalgo told me, ※We got so many compliments on the holiday booth that we wanted to go with the same kind of format and go bigger and better§ as they planned for WonderCon, with the decision being made, ※Because we're in Southern California, we had to do a beach theme!§
As for what might be in store for future booths 每 and even whether Funko would definitely be at San Diego Comic-Con this summer 每 Hidalgo wasn't at liberty to say, but did note the beach theme was certainly possible to revisit. (Personally speaking, I would guess Funko will be back for SDCC, given their continued success in the midst of conventions getting back on their feet).
FANS 4-LIFE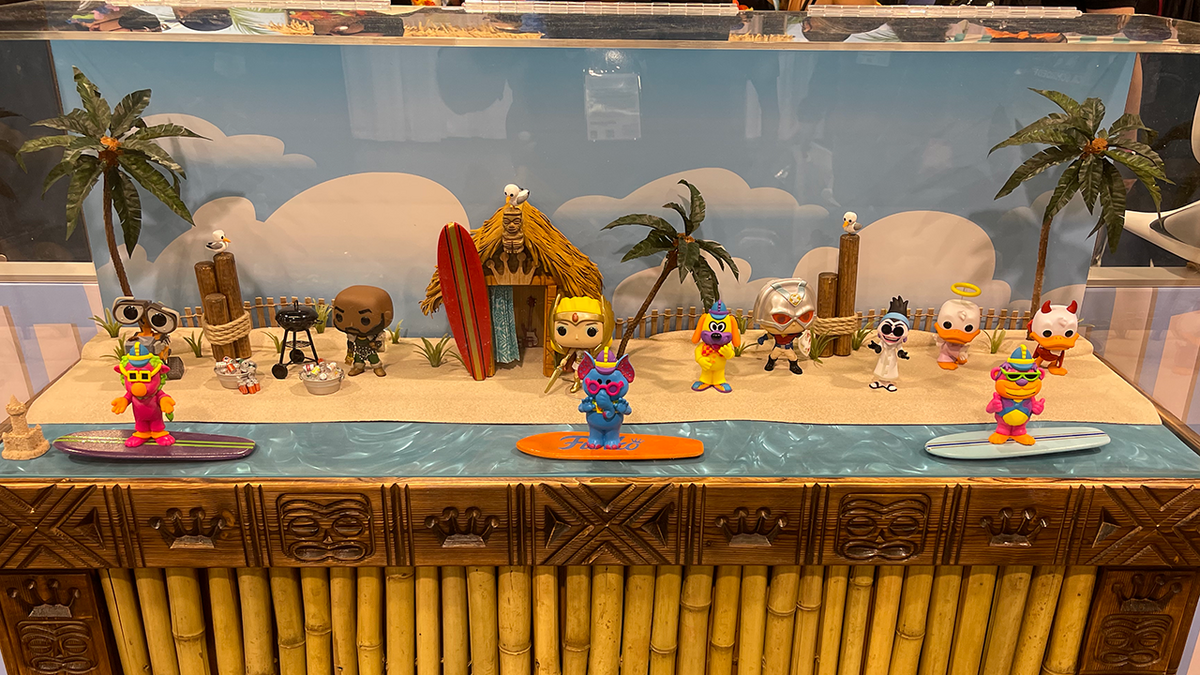 Hidalgo can very much understand the mentality of the loyal Funko fans who turn up at these conventions, explaining, "I am a collector. I've been in these lines. I've waited for hours in line# I've been a collector since 2011, way before I started working with Funko, and I'm probably like 3000 Pops deep. I keep telling myself that I'm going to stop and then they come out with something else and I'm like, 'I need that!'§
Interacting with the fans at these events, she said, ※My favorite part is just hearing their stories and how they got started [collecting] or what their favorite thing at the convention is, especially when they're like, &Oh, I had to come in here because my mom is a fan of so and so and I had to get that Pop for her.§
This year*s exclusives included versions of characters Funko sells regularly, like Peacemaker and Donald Duck, but also more niche items like a new set of their vinyl "Soda" branded figures for the late 1960s kids show The Banana Splits. Hidalgo said those items being Black Light glow releases was one contributing factor to their popularity but also noted, ※We cater to a lot of old school cartoon fans and anything we do that's Hanna-Barbera is very popular. Also, [Funko Chief Executive Officer] Brian Mariotti is a huge fan of? Hanna-Barbera.§
FUNKOS FOR EVERYONE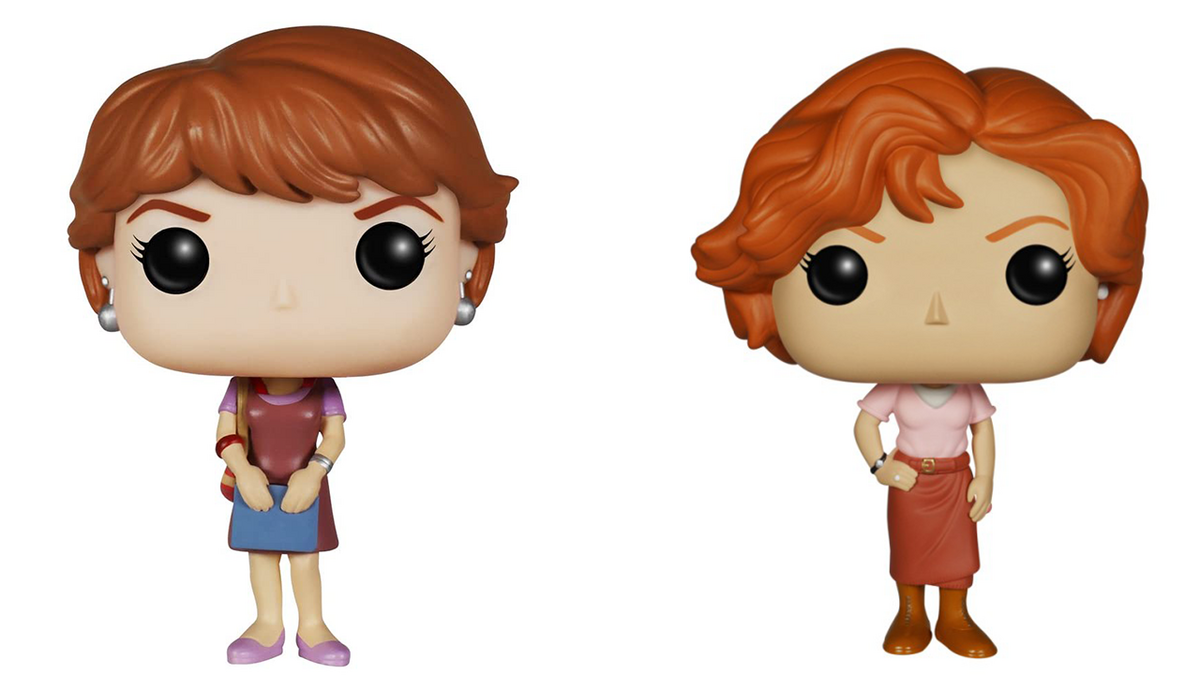 A very notable thing about Funko is the sheer number of licensees they work with, especially when it comes to the coveted Pop figures. Sure, there*s the huge ones like Marvel, Star Wars, and?Harry Potter, and these days it*s not surprising to see more obscure, cult-based horror and sci-fi films get products from many companies, but Funko has dived into IP that you might never expect to see a figure for – from the aforementioned Banana Splits to The Breakfast Club, Bewitched, and Sanford and Son.
Said Hidalgo, ※We*ve really tried to jump between all kinds of genres, because we want to cater to everybody. Everyone's a fan of something, so you want to get the younger generation but you also want to bring nostalgia to those that are older. I think that's what's great about Funko is we try to reach as many people as we can. All it takes is someone seeing the right Pop and asking 'What is this?' and then the next thing you know, they're 200 Pops deep.§
People who would typically never think they*d own any sort of toy or collectible figure have fallen under the Funko spell and Hidalgo observed, ※I think it really is the nostalgia factor. I do a lot of fan engagement and I'm always asking what they love about Funko and the number one thing, other than the community, is the fact that it brings so much nostalgia to them. I remember there was a man that said that he was just walking in a store and then he saw a Care Bears pop, and it just brought him back to his childhood and so he had to get it. So I think that's what it is. It just gives us a sense of what we grew up with and why we liked it. And then the next thing you know, you see Michael Jordan, and you're like 'I haven't gotten a basketball player Pop before!' It's seeing a character or a person that we've made into a Pop and just remembering why we liked that in the first place.
ANNOUNCEMENT HYPE?
With much talked about series like WandaVision or The Mandalorian, often a Funko reveal of a new character or new look for someone will happen incredibly quickly on the heels of fans seeing it on an episode of the show. Hidalgo noted that these secrets are usually held onto by just a few, and that, "The majority of us find out when the fans find out, but even just knowing &We're making that?!* is amazing.§
Regarding those announcements, Hidalgo felt, ※The best part is how excited people get. When we announced, for example, the second wave of Peacemaker, it just blew up. It was awesome, because the actor who plays Judomaster?[Nhut Le] came to our booth yesterday. He was just walking outside looking in and we're like, 'Come in, come in!' We're even making fans out of the actual actors who played the characters.§
Beyond the Marvel and Star Wars style mega-series, Hidalgo noted, ※We have an amazing team at Funko that's really quick and when we know that there's a huge hit in pop culture and we want to make products for it, we're going to try and make it happen,§ such as the case with the recent Pops based on Netflix's breakout hit, Squid Game.
THERE*S ALWAYS HOPE FOR NINTENDO
(AND MORE)?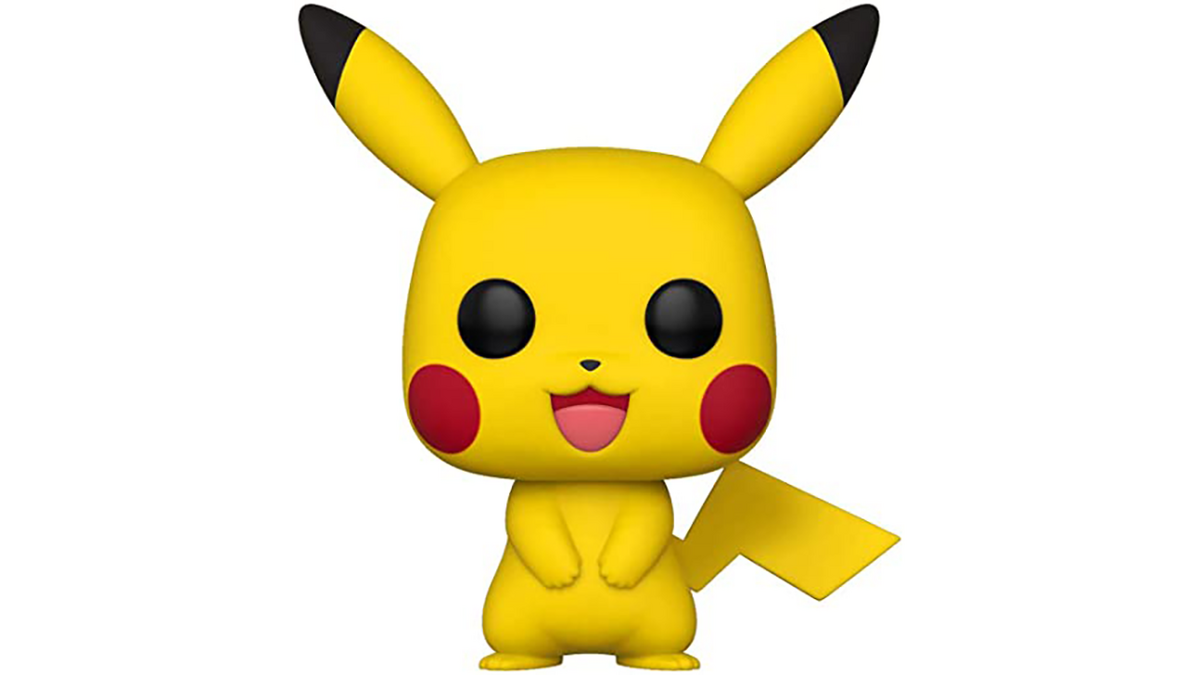 One source of frustration for fans can occur when several characters from a certain property are made, but not all of them, and I did note to Hidalgo my personal fan lament, for example, that we never got Pops for Community characters Pierce Hawthorne and Dean Pelton, given we got figures for most of the main characters quite a while ago. Ultimately, she replied, ※That is a licensing question. There's a lot of things that go into it.§
While I am not holding my breath to complete my Greendale Community College gang in Pop! form, Hidalgo stressed that speaking up about what you'd like to see not only doesn*t hurt but has contributed to some specific characters 每 or even entire new licenses 每 being added. ※That's why we're always encouraging our fans to comment on our social media platforms. If people are saying 'We need this Pop!' we will pass it along.§
Hidalgo brought up one major license Funko has yet to acquire that she greatly hopes to eventually add to her own collection, remarking, ※I would love to have a bunch of Pops for a bunch of stuff like Nintendo, so we can only hope. It'd be great to have Super Mario Bros. or Animal Crossing or Zelda. Right now, we're lucky to have Pok谷mon. I'm hoping one day for Nintendo, because we know our fans want it. So we're crossing our fingers!§
---