What¡¯s the best part of being part of the Tracksuit Mafia? Well, it¡¯s gotta be wearing a comfy tracksuit to work every day, of course! As Hawkeye¡¯s Fra Fee told Fandom, of his costume, ¡°It's like wearing your pajamas! It's great.¡±
Boasting a bevy of acclaimed stage credits, and previously best known onscreen for his role as Courfeyrac in the 2012 film version of Les Mis¨¦rables, Fee can be seen these days as part of the Marvel Cinematic Universe in Hawkeye, where he plays Kazi, one of the most prominent members of the aforementioned Tracksuit Mafia.
Fee spoke to Fandom about how the T.M. get along, what Kazi really thinks of his field commander, Maya Lopez (AKA Echo), and the looming threat of ¡°Uncle,¡± the true leader of the Tracksuit Mafia – who many a fan suspect is Wilson Fisk, the Kingpin.
TRACKSUIT 4-LIFE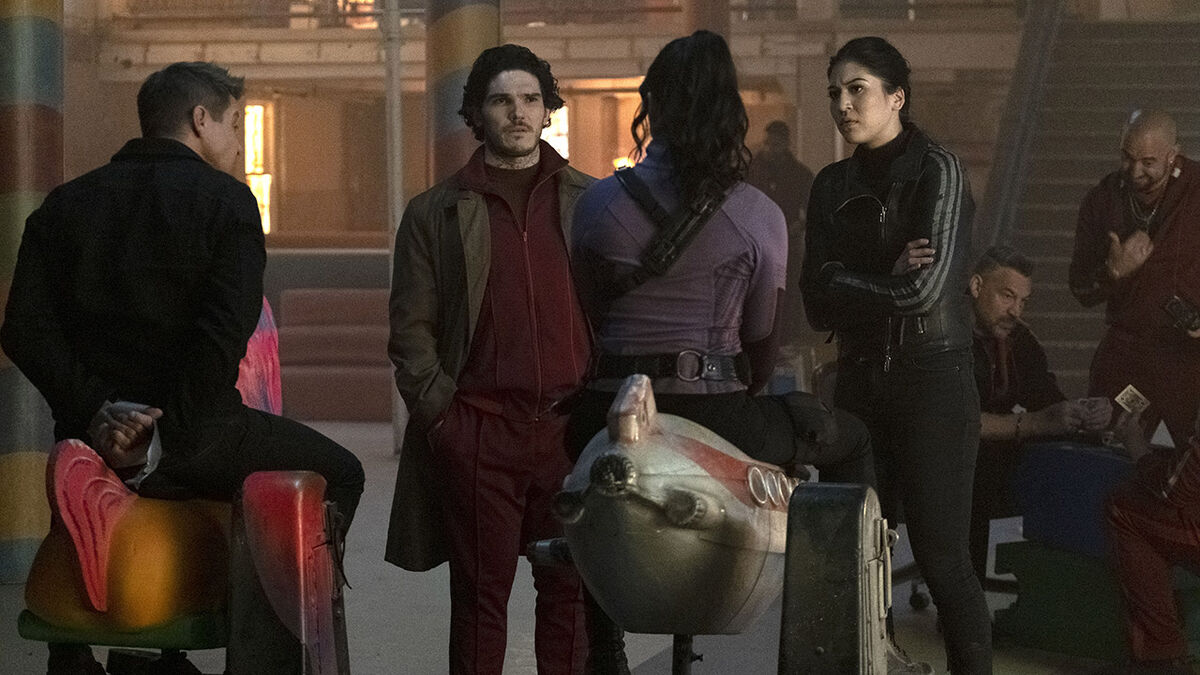 While we don¡¯t know the specifics of Kazi¡¯s origins, we do know a couple of important things at this point: He¡¯s known Maya since he was a child and he rose up in the Tracksuit Mafia to become the right hand man to Maya¡¯s late father, William Lopez, when William commanded the group.
¡°This is Kazi¡¯s family, you know? This is all he's ever known as the foundation of his life, is the Tracksuit Mafia,¡± Fee observed, adding ¡°While he probably doesn't necessarily show it all the time, I think he has a deep, deep love for those men and they obviously have a laugh together.
Regarding all the members of the group, like Ivan,?Tomas, Enrique, and Dmitri,?Fee said, ¡°I get the sense that they¡¯re sort of plucked from their different walks of life; that they¡¯re somewhat misguided and lost souls that have come together. And this is their family unit. So I think there's a lot of love and respect there and deep, deep loyalty.¡±
In the comics, Kazi is a very different character. Not an actual member of the Tracksuit Mafia, but someone hired to help them, he¡¯s a ruthless, quiet, and often terrifying killer known as Clown, who dons white makeup while on the job.
Fee said that after he got the role, ¡°I read the [Matt] Fraction comics that this series is based on and I found him to be an extremely compelling character. There¡¯s this sort of brooding, quiet intensity, which was the main sort of thing that I wanted to take into our version of who he is. And we'll see if there's more to unfold. I definitely haven't excavated enough from Kazi. I'm not sure if we'll be able to do that but if there's an opportunity in order to explore more, I'm available! But it's certainly been really fun to explore this very intriguing young man."
ECHO THOUGHTS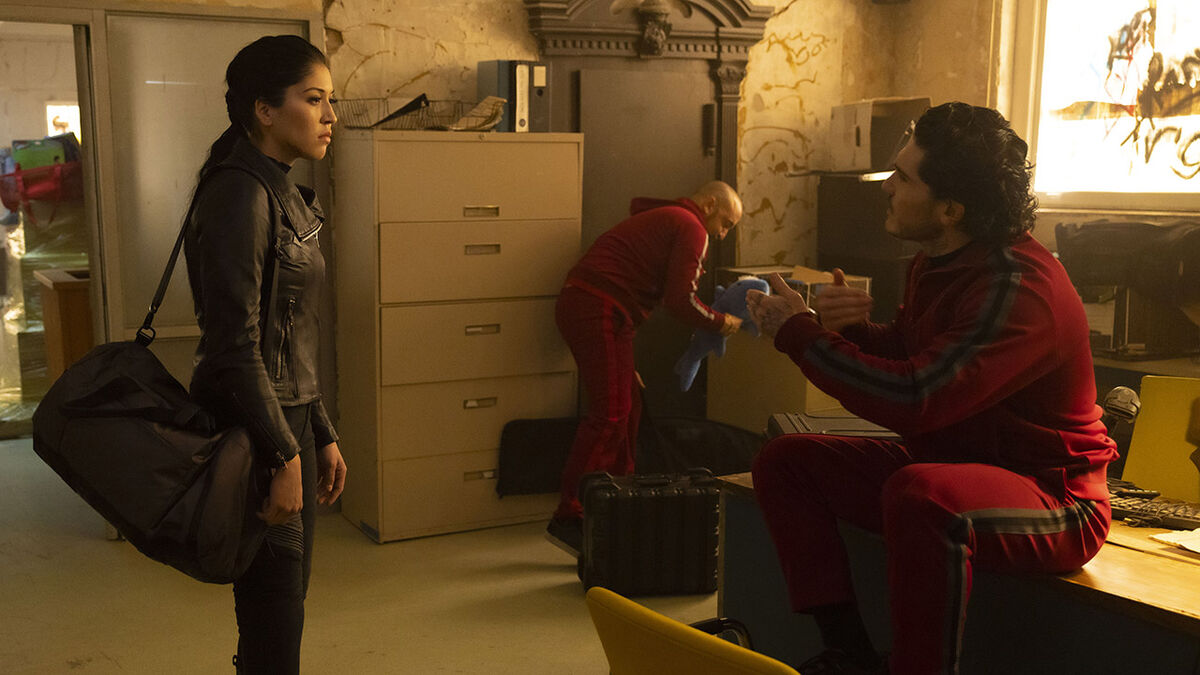 An intriguing dynamic for Kazi is the one he shares with Maya. While she¡¯s in charge of the whole group, he speaks very freely with her, warning her when he thinks she¡¯s making the wrong decisions. While she might argue with him, she seems to likewise value his opinion.
Regarding Kazi¡¯s feelings about Maya, Fee remarked, ¡°He's clearly besotted by her in some way. Whether that relationship is sort of a sense of brother-sister vibes or if it¡¯s anything else is up to someone else to figure out, but there's clearly a deep respect there.¡±
Still though, Fee said there is likely also some bitterness involved with Maya related to details recently pointed out to him by Clint Barton in the latest episode – that Kazi went from being William¡¯s lieutenant in the Tracksuit Mafia to becoming Maya¡¯s lieutenant when she took over, never rising up further himself. Said Fee, ¡°I suspect that Kazi is feeling somewhat emasculated by Maya and by how she has managed to find herself in a higher position in the operation than he is. He¡¯s ambitious and extremely driven.¡±
As Fee noted, Maya wasn¡¯t always his superior, ¡°But she's found her way there. So dealing with his ambition and drive and his fondness and care for her are tough things to juggle.¡± Regarding Clint forcefully telling Kazi to get Maya to back off on her hunt for Ronin, Fee said, ¡°Clint has put him in quite a predicament."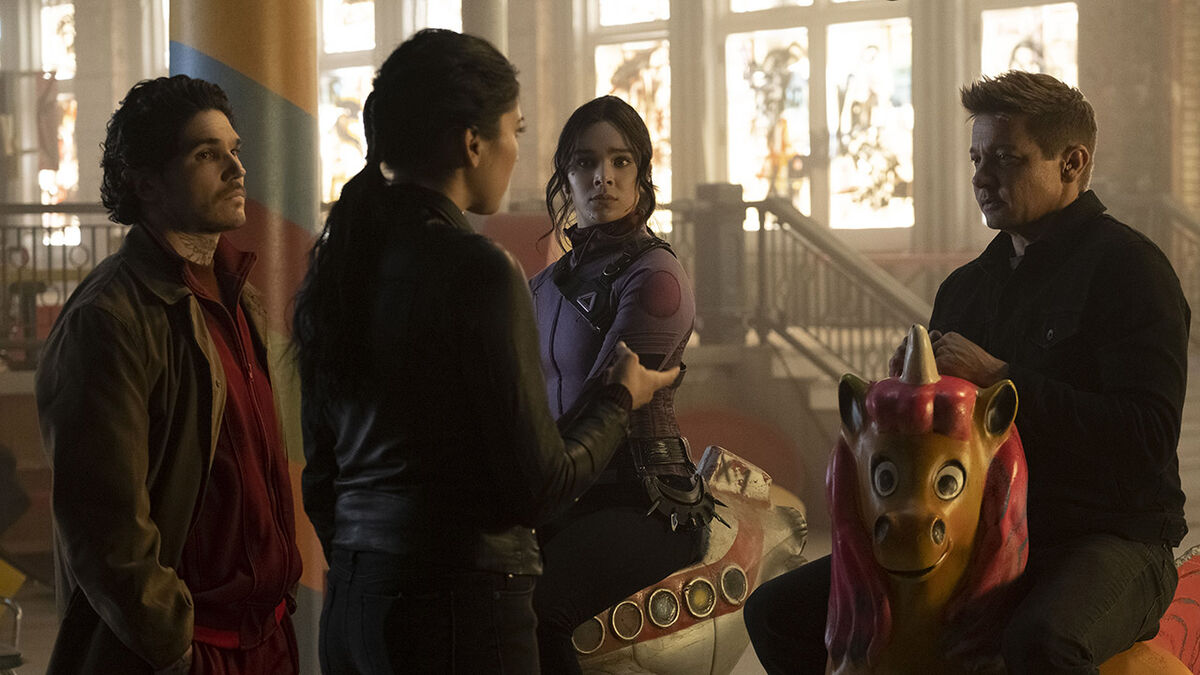 Fee didn¡¯t know sign language at all before getting cast in Hawkeye, but needed to learn at least some of it for Kazi¡¯s scenes with the deaf Maya, who he signs with and interprets for.
When it came to learning this skill and working with his costar, Alaqua Cox, who plays Maya, Fee explained, ¡°Thankfully, the way that the scheduling worked out, we actually had quite a lot of time to rehearse these scenes together, which is such an extra blessing because it meant myself and Alaqua got to hang out loads and were actually able to form a friendship together outside of the project, which I think and I hope translates on the screen. We were able to go on set and feel completely at ease with each other and comfortable and willing to take risks and be willing to make mistakes and lift each other up. That's quite a rare thing. It doesn't always happen. You don't usually have the gift of time. But we were very, very fortunate and one of the true privileges of this whole experience has been learning sign language and being welcomed into her world. It's been a really, really beautiful thing. I'm very grateful for it.¡±
UNCLE… DAVE!
Few Hawkeye viewers can resist wondering about the identity of ¡°Uncle,¡± the still-unseen true leader of the Tracksuit Mafia, who even Maya must answer to. Asked about this character, Fee can¡¯t resist joking, ¡°You're talking about Uncle Dave, right? He's not a big deal!¡±
Of course, the big fan theory is that Uncle is Kingpin, Wilson Fisk, owing both to that character¡¯s important ties to Maya in the comics and to several hints along the way that continue to point in that direction – with the big hope/speculation being that Vincent D'Onofrio will reprise the role he originated in Daredevil.
Understandably, Fee could neither confirm nor deny any of the theories, but when it came to seeing the fans all get so excited about this element of the story, he remarked, ¡°It is fun. I don't go actively seeking the speculation online but sometimes it's inevitable when you're on your socials and you're following the story. And, and to tell you the truth, Eric, I'm following this story in real time with all of the fans.¡±
Fee added that with a show like Hawkeye, ¡°A lot can change, even after you shoot your scenes. I had a pretty firm sense of where things were going, but already, there's been some really exciting changes that are better serving the story. So I'm just as excited to watch it when I wake up on Wednesday mornings as everybody else.¡±