Visionary director John Carpenter has always been ahead of his time. He*s made movie after movie, in a career that spans some 50 years. Some were instant classics, some growers, some misunderstood and underappreciated. Carpenter*s films are masterful, rich, and eccentrically and uniquely offbeat. Escape From LA, the sequel to seminal sci-fi Escape From New York, is one film that has been re-evaluated by some in later years.
Coming 15 years after the original firmly embedded Kurt Russell in the role of iconic eye patch-sporting antihero Snake Plissken, Escape From LA was met with mixed reviews and failed to recoup its budget at the box office. In the years since, it*s gained a strong cult following and watching it today is chilling because it*s eerily prescient.
The film reunites us with Plissken who is sent on a mission to Los Angeles 每 now an island cut off from the United States mainland and used as a dumping ground for those who don*t conform to &Moral America* aka the government*s tyrannical totalitarian laws. Plissken must track down a superweapon stolen by a revolutionary intent on taking back control of the US. All the while, Plissken, of course, is under threat of death after being infected with a man-made virus called Plutoxin 7 that he*s told takes around 10 hours to kill. Return in the allotted time with the weapon, and get the antidote…
Reassessing a Box Office Bomb
As Escape From LA is released on 4K Ultra HD for the first time, 26 years after it first premiered, Fandom chats to John Carpenter about the film and the pre-eminent director's plans for the future, curious as we all are about a return to directing for a true master of cinema.
Carpenter is an artist seemingly more passionate about his music these days than getting behind the camera. Having composed the scores for most of his films and continuing to write for his Lost Themes albums and more, he has been touring internationally in recent years an enthusiastic and energetic septuagenarian, performing his signature synth music to the world. The last film Carpenter directed was 2010 psychological horror, The Ward.
※How did I feel about its reception?§ asks Carpenter, casting his mind back to 1996 and the labeling of Escape From LA as a &box-office bomb*. ※Well, it's familiar to me. I've had so many movies come out that either got bad reviews or were misunderstood, I felt, and then later reassessed. But it's the way of life. What can I do about it? Nothing.§
If you*re wondering whether bad reviews or even bad box office are a reason for Carpenter apparently giving up directing, it doesn*t seem that way. He said in an interview with Fandom a while ago that he felt his music professor father was more proud of his music than his movies and there*s a hint that as the polymath enters the next stage of his life, perhaps he*s looking to honour his dad — on some level at least — by more tightly embracing composing and performing than he ever has before.
Music also allows him to work closely with his musician son, Cody Carpenter — so there*s a lovely synergy there, too. In fact, the father and son duo 每 with collaborator godson Daniel Davies 每 just contributed the main title music for Dave Grohl*s foray into cinema, Studio 666 (※We just happened to have a piece of music that we were working on so it worked out perfectly,§ he says before adding, ※I'm in [the movie]. Don't watch too carefully; I*m a terrible actor.§).
Striking a Chord in the Shadow of 'Independence Day'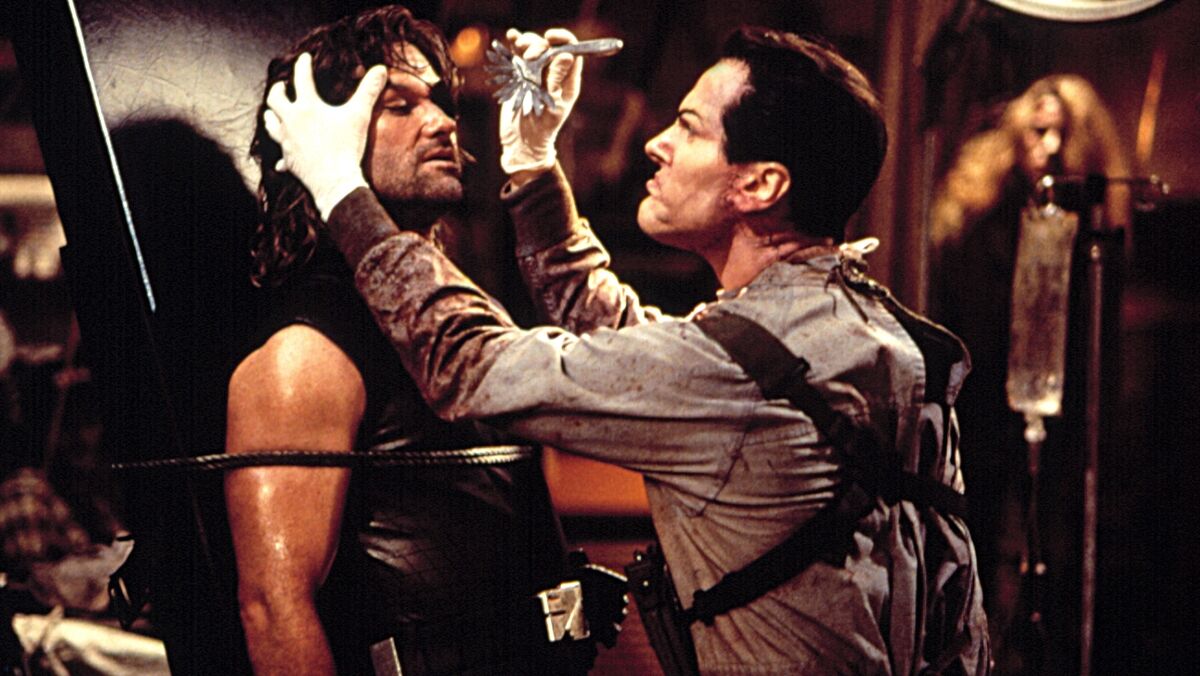 Watching Escape From LA now, it*s surprising that it was so unappreciated because there*s a ton about it that*s striking. It*s laced with typical John Carpenter touches (that score, the humour, the larger-than-life characters) that smoothly blend it into his rich oeuvre, and rather than it being a sub-par rehash of Escape From New York, which many criticized it for, the film builds on themes explored in the predecessor at the same time as tapping new ones. It*s plain to see what Carpenter means when he says that in some ways the sequel is the better film. It's definitely one sequel that was crying out to be made.
"This is what we saw coming in terms of LA and the US." — Carpenter on Escape From LA's prescience.
Escape From LA is a satire that predicted many of the things we*re seeing in the world today. There*s Bruce Campbell*s terrifying Surgeon General scene, to name one, which foreshadows not only the burgeoning trend of multiple cosmetic procedures but also the generic look from cosmetic procedures (and Instagram filters) that*s become fashionable today. Does Carpenter see these parallels?
※Well, yeah, that was all put in there [knowingly] — this is what we saw coming in terms of LA and the US,§ he says. ※I don't know if anybody else saw it or cared. The whole immigrant thing stands out to me big time.§
In the film, those who are banished to the lawless dustbin that is Los Angeles, separated from the mainland following a massive earthquake, include US inhabitants who do not follow the theocratic president-for-life*s strict rules. This encompasses people with non-Christian beliefs. Valeria Golina*s Taslima, a Muslim woman, is one such deportee.
※It was up against Independence Day when it came out, which was a massive, massive, popular hit,§ says Carpenter unpacking why his film underperformed at the box office. ※And this is a dark, kind of nihilistic movie, so we didn't stand a chance.§
The Happy Kingdom Scene
The mid-1990s was indeed smack-bang in the middle of the epoch of the box office blockbuster as the period gave rise to the multiplex. Studio executives and audiences were wowed by bigger and better bangs and visual effects. Audiences were perhaps confused by Carpenter*s ※different style of filmmaking§ 每 an approach that might have been thought to belong to a bygone era — and moviegoers often lapped up spectacle over substance.
Not that Carpenter*s Escape From LA didn*t have spectacle 每 it had stunt scenes including a hang glider assault sequence; plus Kurt Russell and Peter Fonda catching a wave through the city's decaying streets on surfboards in pursuit of Steve Buscemi's classic red Cadillac. Needless to say, these tongue-in-cheek action sequences were criticized for their visual effects, compared with the likes that Roland Emmerich presided over in his impressive, perfectly visually executed, large-scale alien attack disaster movie.
As we*ve pointed out, Carpenter says that he thinks Escape From LA is a better film than Escape From New York. That*s a headscratcher for fans of the earlier Snake Plissken adventure, which is generally regarded as the superior of the two. But does the director have a favourite sequence?
※That*s a tough one. I like the big fight scene at Disneyland,§ he says. The former theme park in the film is actually called 'Happy Kingdom by the Sea' because they apparently couldn*t get permission to use Disneyland. He's calling it that anyway. ※I thought that was fun. Like a war movie.§
They shot the sequence on the Universal backlot, but Carpenter says they got into trouble with the authorities because the gunshots made a lot of noise at night. ※We couldn't use the live ammo, so we're faking all that. We had to put in the flashes later. It was ridiculous. Everybody's out there 每 pew pew — like kids.§
Of course a film about officious authorities was faced with this. It*s pure poetry.
Escape From Earth… Today
Carpenter credits Kurt Russell for getting Escape From LA made 每 the only sequel Carpenter has ever directed. ※He loved that character. And he can be very persuasive when he wants to be. So he persuaded me that we should do this. Then handed me all the work# no, no, no,§ he laughs.
For a while, there was talk of a third Plissken film that would pick up exactly where Escape From LA leaves off, with the world plunged into a new &dark age* as Plissken uses the superweapon 每 known as the &Sword of Damocles* 每 to shut down the entire planet*s power. The film would have been called Escape From Earth and, well, you can guess the basic premise. There*s a story out there that the script was repurposed and became Carpenter*s 2001 sci-fi horror, Ghosts of Mars, which Carpenter shuts down 每 ※No, but that's a good story. I like that.§
"Escape from Earth was kind of Snake Plissken in a space capsule, flying interstellar." — Carpenter on the third 'Escape From…' instalment that didn't get made
What would a John Carpenter Escape From# film look like if made today?
※Depends on the story,§ says Carpenter. ※Escape from Earth was kind of Snake Plissken in a space capsule, flying interstellar. So there*d be a lot of special effects in it. Which I never care about too much. But that*s what it would look like.§
With Russell refusing to return to the Snake Plissken role 每 ※he feels like that*s a young man*s role§ 每 there*s not much hope of Carpenter or anyone else making the film as a close to the trilogy. But with an Escape From New York reboot currently in the works, reportedly with Upgrade and The Invisible Man director Leigh Whannell at the helm (※Some young genius is working on it,§ is all Carpenter will say), there*s hope that it won*t be terrible and that it could kickstart a refreshed franchise. Snake Plissken is certainly a character that could and perhaps should return in some guise in pop culture.
But who could play him?
※Look, there's nobody. There's nobody like Kurt Russell,§ says Carpenter. What about his son, Wyatt Russell, who*s currently enjoying his role as the MCU*s John Walker, making his first appearance in the 2021 Disney+ series The Falcon and the Winter Soldier?
※Oh there you go,§ he responds. ※You should make this, you have more ideas than I do.§
The Thing Is…
Flattery will get you everywhere, Mr Carpenter. Talk turns naturally to which of his other movies from his back catalogue he*d like to revisit for a sequel. Halloween is, of course, out because, while he*s never directed a follow-up himself, that movie has already been sequelized to death and then resuscitated with more.
※Maybe The Thing. Maybe Prince of Darkness. I can see a little bit more of that. But we'll see. You never know in this business. You really don't,§ says Carpenter.
"I secretly love that movie." — John Carpenter on Prince of Darkness
Wait, is this my mind working overtime or is he suggesting he might direct another film? There has been talk of a The Thing project in the works with Blumhouse Productions 每 who Carpenter has worked with in an executive producer role on the recent Halloween &requels*.
※I don't know. We*ll see,§ is what he says, enigmatically, when asked about directing plans.
As for how he*d tackle revisiting The Thing#
※Oh, man,§ he begins. ※Well [clears throat], I just think there's another bit of a story to tell there, which I'm not going to tell you about. But there have been some discussions about The Thing and what we could do because, as far as we know, both those two main characters 每 Childs [Keith David] and MacReady [Kurt Russell] — are still alive. They were alive at the end of The Thing, so maybe they're still alive.§
Ooh. Would Kurt Russell want to come back?
※I don't know. Maybe.§
Prince of Darkness Revisited
Hmm. Carpenter also mentions Prince of Darkness, of course, his Lovecraftian horror from 1987 that is still to this day inexplicably underrated.
※It really wasn't a movie that had a resolution exactly,§ says Carpenter when asked what makes it ripe for a sequel. ※And the subject matter… I mean, you can go any direction you want to. It's about [the idea that] the Creator of the universe is evil. So, I mean, it could be just a whole lot of fun. Plus, I secretly love that movie.§
We might not be quite at the point of getting a sequel to Carpenter*s cosmic horror masterpiece, the second in his so-called &Apocalypse Trilogy* sandwiched between 1982*s The Thing and 1995*s In the Mouth of Madness, but while we bask in the idea, we*ll look forward to that John Carpenter-directed sequel to The Thing, shall we? ?
John Carpenter's Escape From LA?is available now on 4K Ultra HD? in the UK and from February 22 in the US.
Check out our interview with Jamie Lee Curtis in which she discusses how the ending of Halloween Kills affects her character Laurie Strode ahead of?Halloween Ends.