Prime Video*s highly anticipated adult animated series The Legend of Vox Machina, based on Critical Role*s hugely successful first Dungeons & Dragons campaign, is set to change the way we view fantasy and animated projects. Much like Robert Kirkman*s adult animated superhero series Invincible, Matt Mercer and the CR crew gleefully defy and subvert fantasy expectations for a wholly original and, yes, fresh take on the genre. It's certainly a long way from the animated Dungeons & Dragons kids' series from the 1980s, despite both being laced with humour.
It*s fair to say that fantasy used to hold certain &nerdy* connotations prior to becoming mainstream in pop culture. That is to say, it was niche and, at best, had cult appeal. Following the wild, unprecedented success of HBO series Game of Thrones, many streamers are now looking for the next hit fantasy series, marking a shift in the overall preconception and audience base for the genre.
Likewise, Dungeons & Dragons has also enjoyed a resurgence recently, driven in part by its inclusion in?Stranger Things with geeky kids playing make-believe in their basements. Thanks to the Critical Role team 每 along with celebrity fans including Joe Manganiello, Deborah Ann Woll, and Jack Black 每 the role-playing game is now perceived as much more inclusive and accessible, making this the perfect time for The Legend of Vox Machina to make an impact.
Gory Tavern Brawl
The series revolves around the adventures of the titular rag-tag band of misfits in the Kingdom of Exandria. The misfit group includes gnome cleric Pike Trickfoot (Ashley Johnson); barbarian Grog Strongjaw (Travis Willingham); the twins, half-elf rogue Vax*ildan ※Vax§ Vessar (Liam O*Brien) and half-elf ranger Vex*ahlia ※Vex§ Vessar (Laura Bailey); gunslinger Percival ※Percy§ Fredrickstein von Musel Klossowski de Rolo III (Taliesin Jaffe); bard Scanlan Shorthalt (Sam Riegel); and the half-elf druid Keyleth (Marisha Ray).
However, following a shockingly gory tavern brawl and a hilarious sexual romp, it*s clear to see the protagonists aren*t your typical collection of fantasy heroes. The long-held &chosen one* narrative trope is thrown out the window, as we*re introduced to the gang as mercenaries and anti-heroes who rely on killing goblins and (occasionally) thieving for gold. With the realm's band of champions instantly (and gruesomely) killed off 每 and Pike*s suggestion of maybe trying to do some good this time 每 it appears that the mercenaries are Tal*Dorei council*s last hope.
Multifaceted Heroes and Villains
Despite the characters being a variety of magical and fictional races, what*s so endearing is the fact that they*re, surprisingly, so relatable and honest. Each member of the gang has their own flaws and struggles to contend with throughout the series, whether that*s Keyleth grappling with her confidence in her own powers, the surprisingly brawny-yet-emotional Grog, or Percy who is haunted by revenge. This results in a far more multifaceted group than we are perhaps used to seeing in the fantasy genre on screen.
Thanks to the creative team's rich and considered development of their protagonists, the assembled members of our motley crew are much more nuanced and loveable than many of the characters we meet in fantasy properties. Viewers very quickly start to root for them, both throughout their individual arcs and larger quests. But it*s not just the main players who are much more developed than we're used to. Mercer and the gang have used and twisted preconceived notions of villain archetypes to incorporate clever rug pulls when it comes to the series* antagonists, too 每 deliberately leading you down a certain path before ripping up the rule book.
Fun, Fun, Fun
As previously alluded to, Vox Machina maintains the adult-orientated content of the table-top campaign, fully embracing the tirade of violence, sexual innuendo, and adult humour and language. In a genre that can often seem to favour churning out Young Adult (YA) properties at an alarming rate 每 with Shadow and Bone, The 100, and Shadowhunters proving particularly popular 每?Vox Machina makes for a bold and invigorating switch-up from the trend. And where the primary narratives of these are generally overly serious and full of drama, usually centering on evil forces inciting a great war or attempting to destroy all that's good in the world, Vox Machina*s adventures are genuinely fun. Scanlan*s songs, along with the long-running game between Grog and Vax, are distinct highlights.
※We're Vox Machina! We f每每 s每每 up,§ Scanlan proclaims in the trailer 每 and boy, do they do just that. The animation from Titmouse Studio is as ultra-violent and gory as Invincible, with a number of standout fight sequences showing bloody injuries and the actual consequences of battles of this nature and size. In one of the earlier episodes, Vax is particularly distraught at the collateral damage as a result of their skirmish with a creature, proving a pivotal moment in the party*s trajectory from mercenaries to aspiring heroes. Building in consequences like this creates a bigger impact and imbues greater meaning, in a genre in which these qualities can often be lacking.
Progressive Women and LGBTQ+ Representation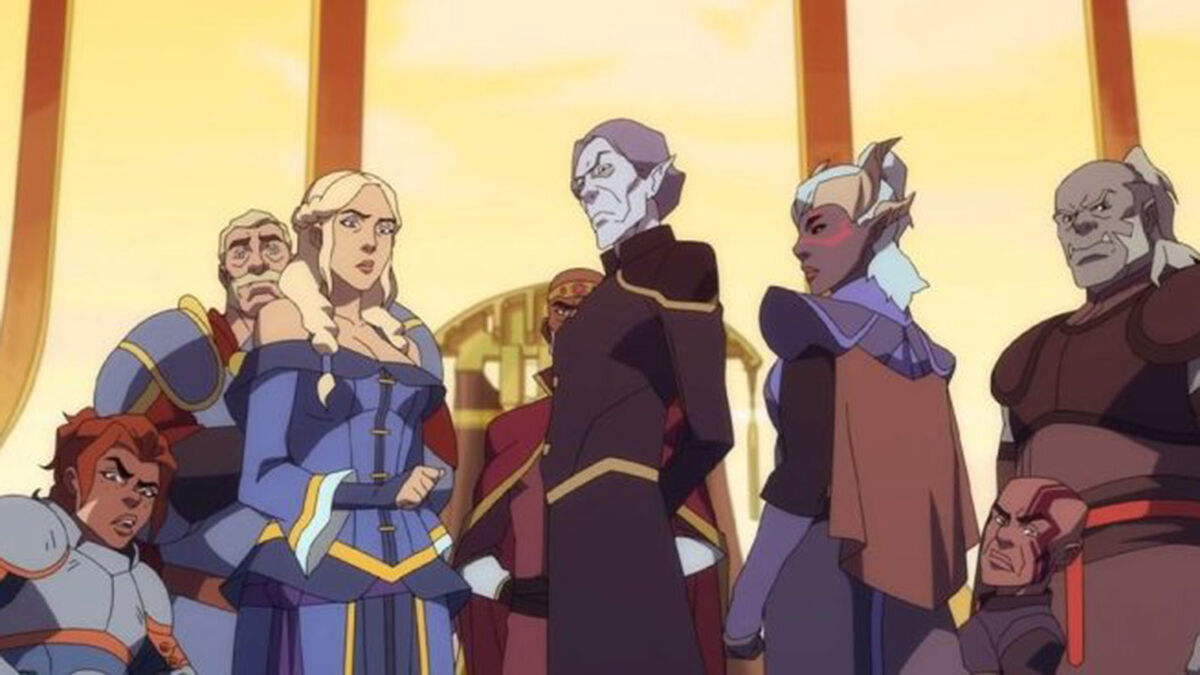 Meanwhile, the portrayal — and inclusion — of women in fantasy have thankfully improved over the past couple of years, as seen in the recent The Wheel of Time and also The Witcher. We've seen women?shift from damsels in distress, exploited sex objects, or supporting characters to heroes in their own right. Pike, Keyleth, and Vex are all powerful and independent fighters, healers and spell-casters, and are most certainly accepted as equals in the gang. If anything, Keyleth is potentially the most powerful of them all.
However, women*s prowess and importance shouldn*t just tie into physical strength and power. Pike*s selflessness in healing and protecting her friends, along with supporting Grog emotionally, is equally important as her physical strength. Vex*s impressive skill with her bow alongside her partnership with armoured bear Trinket also proves just as crucial in the group dynamic. Women are also key players in the Tal*Dorei council, including Lady Allura (Indira Varma) and Lady Kima of Vord (Stephanie Beatriz).
The show*s central relationship isn*t a romance (although certain feelings between Vox Machina members are growing), but instead a more platonic and supportive &found family*, which is shown in a tender, endearing way. None of the women serves simply as a love interest for the male heroes. In fact, sexuality and gender identity don*t dictate who you are or what you can accomplish in this realm. This is one of the most inclusive fantasy shows yet, with the rare embracing of explicitly LGBTQ+ characters. Fan favourite sorcerer merchant Shaun Gilmore regularly flirts with Vax, who clearly enjoys his attention and affections, and Scanlan is, well, bardsexual. In a genre that traditionally shuns representation, Vox Machina feels like such a welcome breath of fresh air.
As fans of both anime and fantasy, the Critical Role crew make their love of both clear, weaving their influence throughout the characters and world of The Legend of?Vox Machina. The series cleverly pushes adult animation and fantasy to subversive new heights, smartly and adeptly twisting typical tropes for a revitalised 每 and energizingly fun 每 approach to the fantasy genre.
The Legend of Vox Machina?premieres with the first three episodes on Prime Video on Friday 28 January, 2022.
Like animation? Check out our interview with anime legend Mamoru Hosoda, who talks about the themes of his new film, Belle, in the article below.