Prepare yourself for some salacious revelations from movie megastars Daniel Radcliffe and Sandra Bullock. The Harry Potter actor and romantic comedy alum star together in new film The Lost City which takes a handful of 1980s adventure romcom Romancing the Stone, a pinch of Indiana Jones derring-do, and sprinkles on some contemporary self-reflexive comedy to cook up a movie recipe that delivers plenty of laughs, and fun — and both celebration and subversion of erotic romance fiction tropes.
The film's plot revolves around Sandra Bullock's reclusive author, Loretta Sage, who is thrown together on a book tour with her cover model and novels' hero known as Dash — real name Alan (Channing Tatum). Contemptuous of his 'himbo' image, and still grieving the loss of her husband, she's reluctant to even share a stage with Alan. But when she's kidnapped by billionaire Abigail Fairfax (Daniel Radcliffe), she's forced to work with Alan to escape the ruthless villain's clutches — and find the lost ancient city she's written about in her latest book.
You've only got to check out the trailer to see that both Channing Tatum's and Brad Pitt's characters take full advantage of the popular long, blonde mane trope. So, we turned to Fandom's Tropedia community, dedicated to the art of the trope in pop culture, on which there are exhaustive lists for both Erotic Literature and Romance Novels of the kind of tropes that we can expect to see in a steamy romance of the type that Bullock's character, Loretta, is used to exploring in her career as a novelist.
Picking out some of our favourites, we quizzed Bullock and Radcliffe on which tropes they'd encountered in their own lives. You can watch their eye-opening responses in the video above — but you can also read what they shared below. Strap in (and no, we didn't talk BDSM — sorry).
TROPE #1: There's Only One Bed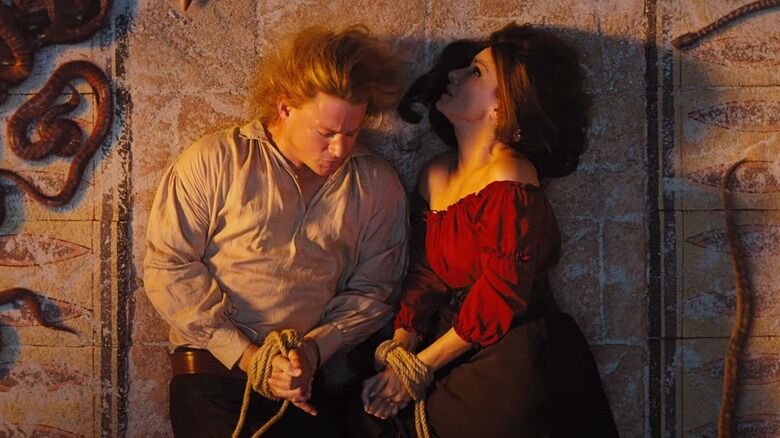 Picture the scene: two people thrown together in a scenario where they have to share a room — or the same space — for the night. Only problem is, there's just one bed and the couple in question aren't, well, a couple. In The Lost City, the one bed is a hammock, and the space, the jungle…
Daniel Radcliffe:?"No. Don*t think I*ve ever done that one before. I*ll have to engineer that…"
Sandra Bullock:?"No 每 because there*s always a floor!"
DR:?"That*s true, yeah."
TROPE #2: Making a Usually Non-Sexy Activity Sexy
In this oft-seen trope, two people will be engaging in an activity together such as building a shed, or painting a village hall, when something magical happens, and sparks fly. The sexy kind, of course. Another interpretation would be one character purposely trying to make a non-sexy activity seductive, which is what Radcliffe and Bullock are going with.
DR:?"I don*t know what you mean, building a shed*s incredibly sexy."
SB: "Does one think they are sexy? Or is it actually sexy? There are times that I thought I was being so hot and then in retrospect I*m like, what was I thinking?"
DR: "That*s my entire… that*s like 16-21 for me."
SB: "Cooking for the first time for someone, you think that, like, you*re wearing [something sexy and] you*re going to let them see it # I thought I was really hot and you*re just shvitzing."
DB: "I think exercise is the same for me. When you think, 'I*m looking really good right now' and you actually just look like an absolute mess."
TROPE #3: Friends to Lovers
When a pair of protagonists insist that they are just friends but the sexual tension always threatens to bubble over until eventually… it does.
SB: "Oh! Yeah! We*re actors!"
DR: "Yes."
TROPE #4: A Fake Relationship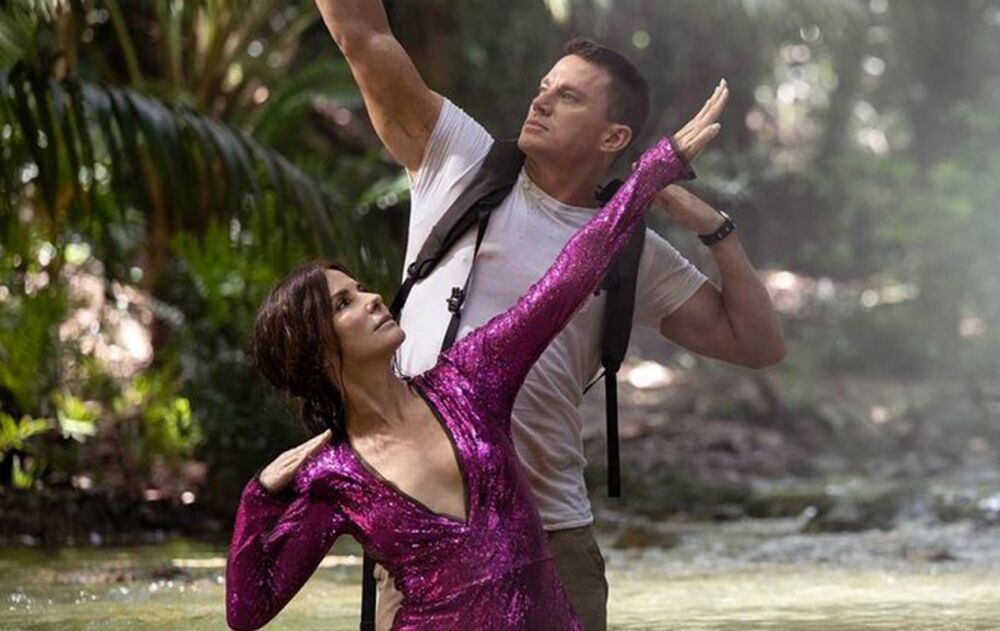 When a pair of acquaintances pretends they're together romantically for one reason or another — sometimes in order to stop the questions about one of the fake couple's relationship status at, for example, a family wedding.
SB: "Yes."
DR: "I think I did that for someone once, yeah."
SB: "I was a waitress. We pretended that we were a couple and that I was pregnant so we could always earn money."
DR: "And you spoke German to each other."
SB: "We did."
TROPE #5: Beauty and the Beast
One of the fated coupling is not conventionally attractive, while the other is an absolute stunner by mainstream beauty standards. Sometimes the 'beast' is not defined by looks but depicted as a person who is intelligent and cynical. You might say that this could apply to Sandra Bullock's character Loretta ('Beast') and Channing Tatum's character Alan ('Beauty', as defined by both his looks and naivety) in The Lost City.
DR: "Oh, I mean, you know, yeah!"
SB: "I was a beast. I*ve had some beauties where I was the scary one, of course. I*m sure, yes."
DR: "Absolutely, I feel like it*s all of [my relationships] for me."
SB: "Wait, you*re the beast?"
DR: "Yeah! I*m surprised anyone can put up with me and ever has."
SB: "He has a sad view of himself. Everyone watching this is going, 'What is he talking about?'"
DR: "But you don*t have to live with me, [my girlfriend] Erin [Darke] does."
SB: "We*re not talking about your personality. Erin has suffered enough. We*re talking strictly the fa?ade, the outward 每 you*re doing fine. You*re fine."
TROPE #6: Blind Date
This is a basic one. Two people agree to meet with a view to sparking romance never having met before. Sometimes there is electricity right away, other times it's the worst date ever.
SB: "Yes."
DR: "You have? When? As a famous person, you*ve had a blind date?"
SB: "One, yes."
DR: "That*s brave."
SB: "And it was# we saw each other and went, &No, this is not going to work*. We still finished the dinner but to find things to talk about was just# it was like… I was so tired."
DR: "Did you have words with the person that set you up on it?"
SB: "No! Because no. I mean what do you say? Bad choice? It wasn*t bad choices, we just were not each other*s anything. There wasn*t even five drinks in, you know, let*s just have some fun and then call it a day. None of that. We both went# no."
TROPE #7: One-Hour Work Week
Sometimes in romantic fiction, a pair of characters seem to have an inordinate amount of time on their hands allowing them to meet regularly and spontaneously with the object of their affections. They will often have, according to Tropedia, "a vaguely defined job that somehow pays well … common jobs include columnist and artist."
DR:?"I mean, yeah, we*re actors. So sometimes."
SB:?"Says the male actor!"
DR:?"You also produced this movie, so you worked a little harder."
TROPE #8: She Drank Too Much, She's Throwing Up, He Holds Her Hair and Thinks She's Beautiful
SB: "Ooh, how about the 'She drank too much, she*s throwing up, he holds her hair and he thinks she*s just so beautiful#?"
DR: "I*m the sober person so the reverse of that situation then yes, hopefully."
SB: "But would you think she*s so beautiful?"
DR: "Even in that situation? Yeah. Erin is.. I*ve literally seen Erin drunk twice and she*s so funny."
SB: "Okay, the way he speaks about Erin is# this is how I met Daniel, speaking about Erin, and I went, 'Oh my god, he*s a good one. He*s a good one.' He adores [her]."
DR: "I was very flattered that Sandra thought we had been together [a short time]."
SB: "It was like, they might be a year and a half, two years. They*ve been together ten years!"
DR: "Ten years this year, yeah."
SB: "And the way that he speaks about her is exquisite."
DR: "Thank you. She*s lovely."
SB: "So beautiful."
Sounds like either of these two screen legends could have a romantic comedy written around events from their own lives. Look out, Daniel and Sandra — Hollywood might be about to come calling.
The Lost City is out now in the US and is exclusively released UK cinemas on April 13.
For more from Fandom interviews, click on the article below.