The Borg Queen made a big impression from the first time we met her in Star Trek: First Contact, where she was played by Alice Krige. Subsequent appearances by the Borg Queen had her played by Krige again but also by Susanna Thompson?(on Star Trek: Voyager), as we learned there was more than one version of the Queen. Now, she has returned once more on Star Trek: Picard, with Annie Wersching (24, Runaways) — who'd previously played?Liana?in the?Star Trek: Enterprise?Season 1?episode "Oasis" ?— taking over the role.
Wersching was on hand at WonderCon this past weekend, joined by Picard¡¯s James Mackinnon (Makeup Designer and Department Head of Prosthetics) and Neville Page (Senior Creative Designer) for a panel focused on how the Picard team approached reinterpreting this iconic Trek villain.
PAST AND FUTURE?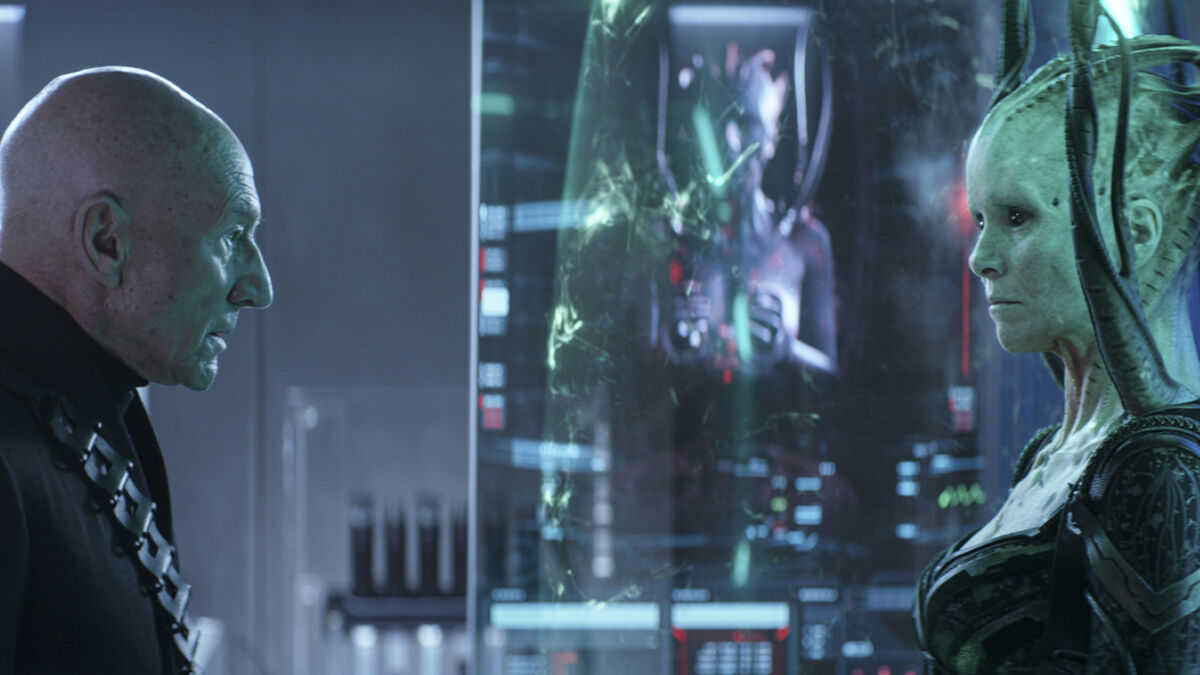 Page said that when it comes to designing anything for an established franchise based on previous work, ¡°You have to be mindful of the legacy. Those of you who are familiar with the Borg Queen know that she has a significant place in Star Trek, so there's going to be a major legacy and canon to be mindful of.¡± Page added he felt ¡°You¡¯re obligated to refresh, whatever that may mean, but absolutely respect the canon.¡±
Given the Borg Queen¡¯s previous appearances, Page remarked, ¡°I don't want someone to look at our Queen and not recognize her as the Queen. So you start to get familiar with what makes the Queen.¡± Page ultimately observed, ¡°There¡¯s this thing that's on her head that sort of defines her beyond just the necrotizing flesh and decay she's going through. That's an interesting juxtaposition. So there's this element on the back of her head, so I thought, okay, we can work with that and possibly turn it into something special.¡± In fact, Page would call that headpiece her crown, which is only fitting given she is, after all, a Queen.
As far as her performance goes and following the previous actresses who played the role, Wersching noted it all goes back to Krige, with the crowd applauding as she declared, ¡°For starters, all hail the Queen to Alice, right?¡±
Recalled Wersching, ¡°Before I booked the job, when I was first putting myself on tape and kind of figured out that maybe it was the Borg Queen that I was auditioning for — because I didn't really know! — I watched First Contact. Then, once I got the role, I just watched all things Borg, even random things on YouTube that were like ¡®The History of the Borg.¡¯¡±
That being said, Wersching noted, ¡°I didn't watch Alice and Susanna and completely study them and try to mimic them or anything like that. I watched them and let it in there but then I never once was thinking about them when I was performing. I wanted to learn [the history] and then do my own take on it. ¡°
¡°I NEEDED YOUR SKULL
IN MY COMPUTER¡±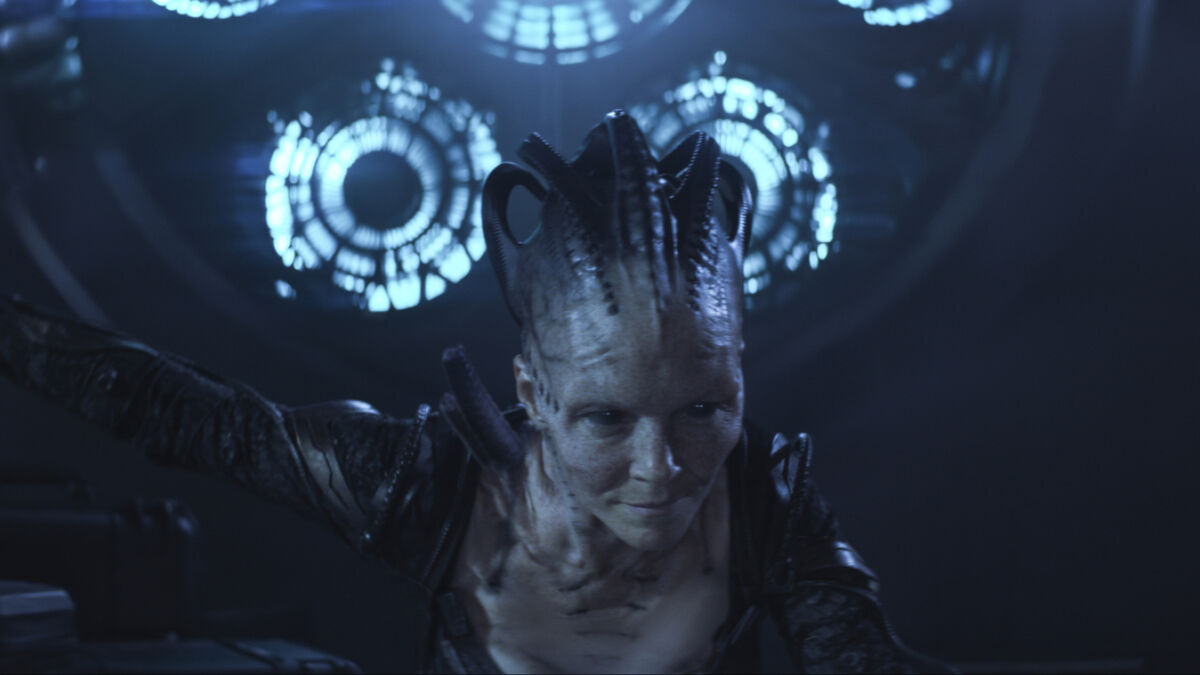 During the development process, Page noted they spent a lot of time with different potential designs, asking, ¡°Is this too much? Is this too little? We were playing with costume ideas at the same time because we wanted to get a sense of the cohesiveness of the Queen.¡±
The key crucial missing ingredient for quite some time though was Wersching, since she would be needed for the final designs to be implemented. Page recalled the period in which Wersching was on everyone's radar for the role but hadn¡¯t signed on yet, amusingly recalling thinking, ¡°Give me her face! We need Annie.¡± The process required Wersching to be digitally scanned, before a 3D printing of her head was done to experiment with how the prosthetics would actually work, and Page turned to Wersching as he explained, ¡°I was dying to have Annie's head in my computer. I needed your skull in my computer.¡±
Page in fact had high praise for Wersching¡¯s head – literally, as he said, ¡°The Queen is so symmetrical and Annie, your head is so symmetrical. Once we had Annie's head and I assessed that she's the perfect organism, we then printed her out.¡±
The Borg Queen has no legs on Star Trek: Picard, but at one point, they considered not giving her arms either. Though Wersching had to spend a lot of time in a harness, Page said they always kept the actor¡¯s comfort in mind in terms of how restrictive things might get making the show, recalling speaking with the writers and discussing, ¡°How is Annie going to do anything? Even just the issue of what if she has to eat or go to the bathroom? All the logistics of standing inside of this thing, and you¡¯re handcuffed, all were playing a factor of the practical plus the desired narrative. You just come up with what the appropriate balance is.¡±
FINAL TOUCHES?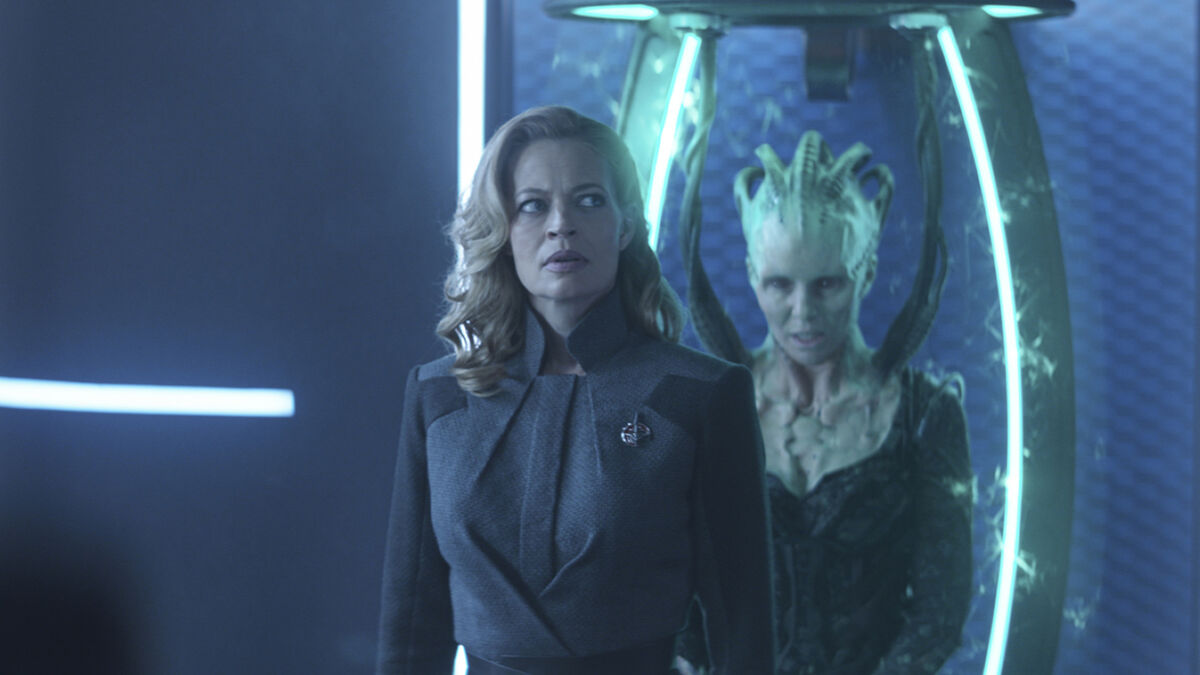 Even after Wersching was cast, a lot of specifics needed to be worked out, with Mackinnon noting, ¡°it takes a little while because we are figuring out color placement and making sure we have everything in the right spot.¡± That included making decisions on how much of Wersching would be covered up in makeup or not, down to whether her freckles would be part of the Borg Queen design. As Mackinnon put it, ¡°A lot of alien makeup gets a little too thick and a little too heavy on the face. We wanted to make sure that we used her face, we used her beautiful structure, and not cover her all in silicone.¡±
And yes, ultimately, ¡°We brought her freckles onto the prosthetic instead of covering those. And I think it worked really, really well. So there was a freckle treatment at the end!¡±
On top of that, in terms of looking at previous versions of the Borg Queen, Mackinnon noted, ¡°There's a little marbling on the side. I was lucky enough to be able to work on Star Trek: First Contact, so watching Scott Wheeler do the Borg Queen from that movie, I saw that marbling and I brought that with me on this.¡±
Even after filming with the final design had begun, Mackinnon explained, ¡°There's a lot of changes that happen throughout and I probably change the makeup every day a little bit differently though you guys will never see it. One, it makes it faster, two, it makes it better, and three, I go to set and see that the lights and colors that they use change the makeup.¡±
Wersching was in the makeup for incredibly long days ¨C up to 16-18 hours ¨C and said, ¡°I'm not gonna lie… In the very, very beginning, I was a little bit like, ¡®What did I get myself into?¡¯ But it was pretty interesting how quickly I just really enjoyed the process, for whatever reason.¡±
After Wersching joked, ¡°I really didn't have to do much because I looked so cool,¡± Mackinnon remarked, ¡°We can't do it without you and you can't do it without us. You have a combination when it comes together. There's moments when I'm doing your makeup and I can see you change into that character, and it's a great moment because you start kind of talking to me a little bit different, in character. So I know I've done my job well.¡±
Wersching had to arrive to work much earlier than her castmates due to her makeup and prosthetics and then leave after them and observed, ¡°The interesting thing is that most of these people never ever saw me with just my normal face. Legitimately, because I would get there at 4:00 and they would get there at 7:00. I remember at Star Trek Day, Patrick [Stewart] was there in the green room. And I went up and said hi and he was just looking at me. I said, "I'm Annie. I'm the Borg Queen!" He was in shock! ¡®Our Borg Queen!?¡¯ Because he never, ever, ever saw me not looking like that.¡±
---